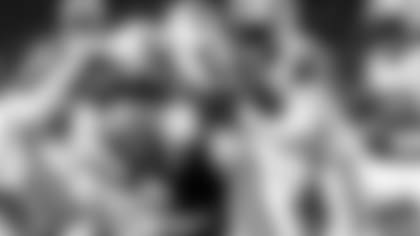 Darnold's Debut Comes in Detroit
There were five quarterbacks taken in the first round of the 2018 NFL Draft, but just one will start at quarterback on the NFL's opening weekend. Sam Darnold, the No. 3 overall selection in April's draft, will become the youngest passer since the AFL-NFL merger in 1970 to start a season opener when the Jets battle the Lions at Ford Field.
"We celebrate all wins. But at the same time, I know that just because I get named the starter doesn't mean that we won the game Monday night," said Darnold after Todd Bowles named the USC product his starter. "It' s awesome and I'm really happy to be the starting quarterback, but I also know that I have to go out there and do my job."
Bowles, staying true to his old-school philosophy, is not overthinking the challenge ahead for Darnold. After the red-headed rifleman completed 64% of his passes in the preseason and consistently impressed on the practice field, the Jets' fourth-year head coach wants his signal caller to just play within himself.
"He's been playing football all his life," Bowles told reporters. "He's not just coming fresh out of the womb and just grabbing the ball for the first time. He's been in crowds. He's seen crowds and he's been playing football. I don't think it's that big of a deal. It's always going to be loud in a dome and Detroit is a tough place to play. I get that, but he just has to play football. He'll be fine."
The Lions, whose 19 interceptions ranked tied for fourth in the NFL last season, don't have a lot of pro tape to look at in preparing for Darnold.
"He's been a top-rated player his whole career," Lions cornerback Quandre Diggs said on DetroitLions.com. "So, at the end of the day, he has the pedigree. He has everything.
"You just have to study him as best you can and just watch him. We know he's a good young player and I think he's going to be tremendous in this league."
Daring Lion
Last season, Detroit QB Matt Stafford completed 65.7% of his passes for 4,446 yards with 29 touchdowns and 10 interceptions. Stafford likes the vertical pass and this new-look Jets secondary has to make sure the ball doesn't go over their heads. But the talented passer was sacked a career-high 47 times in 2017 and it will be interesting to see how Bowles and Kacy Rodgers devise their pressure schemes against an offense that is aiming for more balancing after finishing with the NFL's No. 32-ranked rush offense.
"He definitely trusts his arm and it feels like he can do whatever he wants with it," said S Doug Middleton of Stafford. "They have a lot of talent. Golden Tate is a very crafty guy, Marvin Jones is sneaky fast and a good route runner and (Kenny Golladay) is their fastest guy who can stretch the field. TJ Jones is one of those up and coming receivers in the league. Their tight ends are decent. I think they'll be able to help blocking or whatever their roles are in the game. We've seen them a lot. Kerryon Johnson and Ameer Abdullah are good running backs and LeGarrette Blount, we played against him when we played in New England."
Expect the Unexpected
The Jets and the Lions haven't played a regular season game against each other since 2014 when Darnold was still a student at Sam Clemente High School. The Lions have a new head coach in Matt Patricia, who was the Patriots defensive coordinator from 2012-17. Then throw in the fact that neither team has any recent regular season film on the other and there is a ton of intrigue for the matchup.
"You don't have anyone on film number one. Everybody gets last season and they do their own self-scout and they make adjustments and changes," Bowles said. "You have to anticipate every trick play. You have to anticipate every special teams gimmick. You have to anticipate everything you need to anticipate. You don't really get to hone in. You get to hone in on the past, but the new wrinkles that come up — you just have to read your keys."
On the Inside
Way back in the spring, Bowles appeared on Adam Schefter's podcast and said Darron Lee was "outstanding" in the second half of the 2017 campaign and added he would have to become more of a vocal leader this season. Lee, who will play alongside a new face for a third consecutive year, says the transition has gone well with Avery Williamson after a season with David Harris and Demario Davis.
"The potential is all there in my opinion to be the best inside linebacker duo in this league. That's what we're aiming for and that's what we're shooting for," Lee said. "The potential is definitely there. My first year, I played with guys who already played in the system before. Avery hasn't played in this system before, but he's been picking it up tremendously. Now we're just trying to incorporate it all and make it flow smooth."
Lee and Williamson will share the play-calling duties and the third-year 'backer from Ohio State believes they are continuing to find the right balance.
"Now he's starting to see some stuff in the passing game and can say, 'This is coming.' Now I'm seeing stuff in the run game and telling him, 'This is what's coming.' Now it's pretty balanced," he said.
Identity to Be Revealed
Twenty-eight teams will already have played a game before the Jets and the Lions kick off at 7:10 p.m. Monday. The Jets had two "bonus" days of work early in the week before ramping up their preparations with practices Thursday – Saturday prior to flying to Detroit Sunday.
"I'm excited. I'm just going to prepare my (butt) off," Middleton said.
Lee added that he is "super excited" for a prime time contest to get the season underway. With three games in 11 days, we're going to find out a lot about the Jets in a hurry.
"I like our team right now. Again, we haven't played a game yet," Bowles said. "We are still gelling. The chemistry is still coming together and the key in the first four or five weeks of the season is to win while you're trying to gel. I like what we have and I like where we are going."