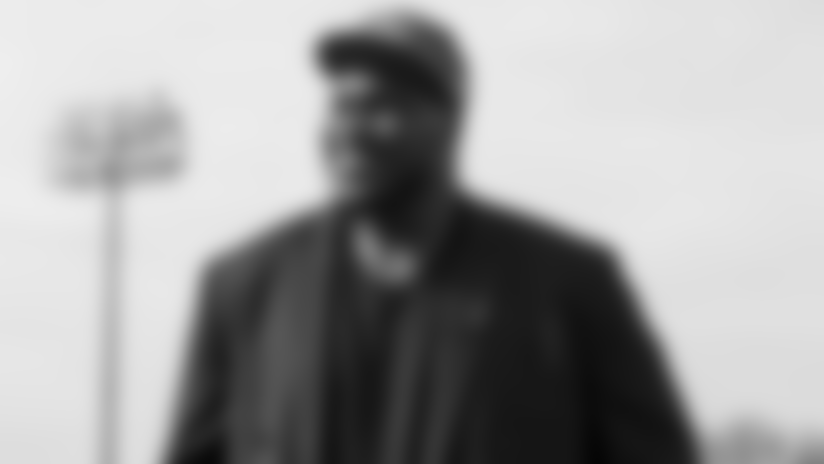 When the Jets traded for left guard Kelechi Osemele, Sam Darnold was one of the first people who reached out to the two-time Pro Bowler.
"He was really excited on Instagram," Osemele said of his new quarterback. "I hit him up and told him I'm his new bodyguard here. I'm really excited about that."
Osemele, who spent the last three seasons with the Raiders, said he had just wrapped up at church when he received the phone call that he was going cross country to trade silver and black for green and white. Shock quickly became excitement and he turned to Twitter to say his goodbyes and hellos. Now, he's eager to bring leadership and experience to the Jets, but most of all, physicality.
"That's what I pride myself in and what I enjoy doing," he said. "I have fun with it and I've heard Mr. Winters is going to be a guy I'm going to like a lot, so I really can't wait to play with that guy. I feel like I have a certain presence. I think I bring that, a certain professionalism for the younger guys to look up to and I keep my nose clean, I stay out of trouble, so that's good. I think there's a few qualities that I bring to the team."
While Osemele hasn't met right guard Brian Winters yet, he's familiar with his neighbor up front in left tackle Kelvin Beachum, who was in the same workout group as Osemele at the 2012 Combine.
"We actually have a few similar friends. He comes down the Bay Area every now and then," said Osemele, who's in the best shape of his life. "I've heard a lot of really good things about him. I'm excited to learn from him on and off the field and likewise for [Beachum], so that'll be a good experience."
Another familiar face to the former Super Bowl champion is both former and current teammate C.J. Mosley, who Osemele likened to the defensive version of new Jets running back Le'Veon Bell.
"He's a ballplayer. He's a ballhawk," Osemele said of Mosley. "He's like literally Le'Veon but in a linebacker's body. He's sideline to sideline, just as good ball instincts as any wide receiver out there, has a high football IQ. He has a swagger and a presence about him. He's just a ballplayer."
When asked if he's excited to block for Bell, the 6'5" mauler smiled and said, "Hell, yeah. How could you not be excited? He's a baller, man. He always finds a way when it looks like there's no holes there. Obviously we're going to do our jobs and open up big holes for him and he's going to make us look good as well. I'm really excited about that. He's a playmaker and I think he's going to be a game changer for us."