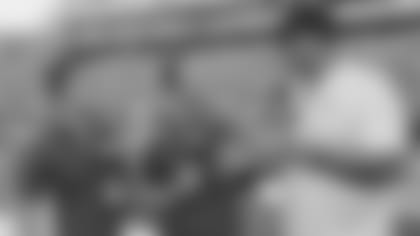 Jets Legend Anthony Becht has joined the CBS 2 New York broadcast team for its coverage of three Jets' preseason games. With Ian Eagle handling the play-by-play, Becht will provide color commentary and expert analysis, including background information, statistics, strategy, and additional antidotes. Otis Livingston will continue to work with the group providing live player interviews from the field.
An 11-year veteran, Becht played his first five seasons with Jets following his selection in the first round of the 2000 NFL Draft, one of a record four first-round selections that season. No stranger to the broadcast booth, Becht has been an ESPN college football analyst since 2013.
Preseason Games Streamed LiveFor the first time, New York Jets fans in the team's local TV market will have the option of streaming the Green and White's preseason games against Atlanta (8/10), NY Giants (8/24) and Philadelphia (8/30) at NYJets.com/preseason. 
ESPN New York 98.7 FM Radio Pre- and Post-Game Shows
Beginning this Friday's preseason opener against the Atlanta Falcons, Dan Graca joins the New York Jets game day radio team. Jets Legend Greg Buttle, who returns for his 18th season on Jets radio broadcasts, will join Graca during the pregame, halftime and post-game radio shows.
For the preseason, former safety and Jets Legend Erik Coleman will also join Buttle and Graca. Coleman, a fifth-round selection by the Jets in 2004, spent nine seasons in the league, playing 123 games. Once the regular season kicks off, Anthony Becht will come out of the TV booth to join the radio broadcast.
Pregame Central Presented by PepsiPreceding SNY's Jets Pre Game Live that airs one hour before kickoff, Jets 360 will air Pregame Central presented by Pepsi- a live pregame show from MetLife Stadium for all eight Jets regular season home games. Fans will be able to stream the new pregame show from newyorkjets.com or through the Official New York Jets app to watch Anthony Becht and Eric Allen co-host the show live from the field.
Prior to away games, tune in to Pregame Central Presented by Pepsi to see Eric Allen discuss the day's matchup from the field.
Additionally, look to newyorkjets.com and Jets social channels for post-game coverage from Jets 360 including Eric Allen, Ethan Greenberg, Oliva Landis and Anthony Becht.
Inside the Jets presented by EY
On Monday Nights during the regular season, the team will continue to air Inside the Jets on ESPN New York 98.7 FM and stream it simultaneously on the club website and social platforms. Veteran Jets Reporter Eric Allen will be joined by Erik Coleman as the pair speak with Jets players in front of fans at Vanderbilt's at the Wyndham Hotel in Florham Park.
Jets Flight Plan presented by JetBlue
Airing on CBS 2 New York on Sunday mornings at 11:30 a.m. throughout the seasons, fans can tune into Jets Flight Plan with CBS 2's Otis Livingston and the Jets' Eric Allen for insight into the upcoming matchup.
The show, featuring Jets Legends Bart Scott and Chad Pennington, will also include a 1-on-1 with Jets head coach Todd Bowles.
Scott, a Green and White linebacker for four seasons, will provide in-depth analysis "Inside the Film Room" and also join Allen for a weekly sit-down with a player in "Jets Spotlight." Pennington, a former Jets quarterback who was twice named NFL Comeback Player of the Year, will give key insights in "In the Pocket with Chad Pennington."
JetLife
JetLife, the lifestyle show of the New York Jets, airs Saturday nights at 11:30 p.m. during the season on CBS 2. Jets 360's Olivia Landis will host the show, sitting down with current Jets players and Legends for in-depth interviews, giving viewers an all-access look at what is happening both on and off the field.