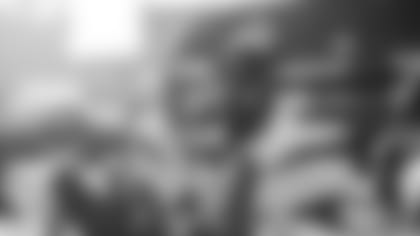 Even though LB Kwon Alexander was a late addition to the Jets when he signed in August this past season, he was able to quickly absorb the playbook and make an immediate impact.
"It was legendary, I have fun here and it was a blessing to be here in New York" Alexander said about his season with the Jets. "I'm going on Year 9 now so it was easy to pick stuff up. Most of the stuff was the same thing ,but just different terminology. So, I just came in and picked it up fast you know, just playing ball, so it was just fun to be out there and just having a lot of energy with the guys."
Alexander, who was drafted in 2015 by the Tampa Bay Buccaneers, has been in the NFL for eight seasons. This past season, Alexander was reunited with his the defensive coordinator he played for on the San Francisco 49ers in 2019-20 —Jets head coach Robert Saleh.
"I was with Kwon in San Francisco, so you kind of knew what you were getting," Saleh said in November. "The dude packs a punch, he brings energy, he's unbelievable in the locker room, his teammates love him, coaches love him, and he's brought a different swagger to our defense."
Alexander's numbers proved how impactful he was, too. Not only was Alexander part of a defense that went from last in 2021 to a top-5 ranked group this past season, but he had 69 tackles, half of a sack, 1 forced fumble, 1 pass defensed and 17 stuffs. Most importantly, he played all 17 games this past season, the first time since 2016.
"It's hard we go through a lot during the year just to keep our bodies up and go out there and be 100% every game," Alexander said. "Playing a whole 17 games has been fun you know, I'm trying to do it again this year so it's going to be a blessing."
While Alexander is soon to be a free agent, he knows that the Jets have a bright future with a young core.
"Oh man, you got some dogs on his team and guys are ready to work," Alexander said. "Putting in, as you can see especially on defense, the guys they work hard. Offense, too, a couple guys got hurt and stuff like that. So, it's going to be a big year for them this year.
"One day at a time, you're going to get to where you need to go. So, I don't feel like we need to rush it you know, just take one day at a time."