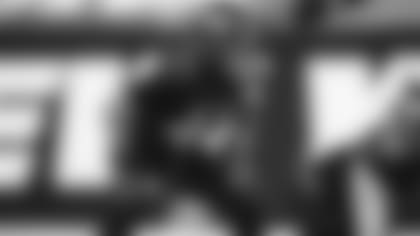 Jets linebacker Harvey Langi has been a special teams stalwart this season, but when his number was called against the Patriots, he answered. In his first start this season and the fourth of his career, Langi finished second on the team with 10 tackles and 1 QB hit.
"Situations change," he said. "Everyone has a role and sometimes your role is to be in a couple packages or on special teams, whatever it is. Sometimes that role gets expanded into other situations and I've been given an opportunity to have a bigger role. … Whenever you're given that extra responsibility, there's a lot of cool things that come with that. Just knowing I have guys who believe in me and know that I can take care of that and do the job within. It's super exciting and it fuels me to come out here to practice every day."
Langi has played the third-most snaps on special teams in 2020 with 182 (74.6%) compared to 163 (25.9%) of the defensive snaps. He played 77 of the 81 snaps on defense (95%) against the Patriots, which was his most playing time since Week 1 (83 of 87 snaps, 95%) when he replaced the injured Blake Cashman.
"The biggest thing I've learned so far is there's never enough preparation and understanding concepts within, and for my case, defense and special teams," Langi, a Utah native, said. "There's never 'Oh, I got it. Don't worry, I'm 100%.' There's always time to improve and time to put in more time. I think that's probably the biggest thing and with that, there's understanding who you're going against and understanding what they do and their concepts. You have to keep it going and always stay sharp and understand there are different situations and times that come up within the game that are super crucial. You have to be ready for those situations, so preparation and understanding what you need to do. You're part of the puzzle in those times."
He's focusing on his communication with fellow ILB Neville Hewitt to ensure the defense is in synch. Langi, who has 19 tackles this season, is one of four healthy inside linebackers on the active roster. The other three are Hewitt, Bryce Hager and Patrick Onwuasor, who was activated off injured reserve earlier this week. The defense has a difficult test this week against the NFL's No. 4 overall offense that's led by rookie QB Justin Herbert and WR Keenan Allen.
"I'm excited to play in the warmth," Langi said. "Don't get me wrong, Utah is cold, too, and I love playing in the cold, but I'll take the warmth. … They have a great offense. That young quarterback is out there doing his thing and he's been given the responsibility to be QB1 and he's going a good job out there. We have to try and slow him down, slow down their run game of course. As a linebacker, you always want to hold your head high when it comes to stopping the run and that's something we take pride in."