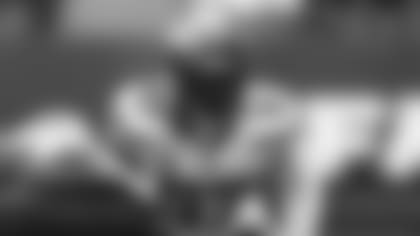 Linebacker C.J. Mosley is at the heart of the Jets' defense, which would make his absence even for a day of practice, a concern.
On Wednesday, head coach Robert Saleh reported that No. 57 would not practice because of a hamstring injury sustained late in the Jets' loss to Atlanta in London 10 days ago. He is being listed as "day-to-day" ahead of Sunday's return bout against the New England Patriots, this one in Foxborough, MA.
"He feels good about it and when it comes to lower extremities it's best to feel out the player," Saleh said. "It happened in the London game, one of the last few plays, which is why it went unnoticed. With Monday being an off day, it was diagnosed on Tuesday."
With Jarrad Davis, a free agent signing, still dealing with a nagging ankle injury sustained in the preseason and unlikely to make his season debut in Week 7, Saleh said he believes Mosley will be ready to face the Patriots.
"I remember when [Richard] Sherman had a Grade 3 hamstring and only missed a week," Saleh said referring to the 49ers' DB during his time as the San Francisco defensive coordinator, though he declined to report the seriousness of Mosley's issue. "He [Mosley] feels confident he'll play. He said he's dealt with it before. We'll see what happens."
Mosley's return to the field in the 2021 NFL season has been a revelation to some, but hardly a surprise to the Mike 'backer. After five games, he leads the team in tackles (45 total, 25 solo). He has started all five games to this point, and has one of each of the following: a forced fumble, a pass defensed, a sack, a TFL and a QB hit.
If Mosley does not play, Saleh said that rookie Jamien Sherwood would take over as the Mike. "He's been practicing there, he's comfortable there," Saleh said. The other rookie converted from safety to LB, Hamsah Nasirildeen, remains on injured reserve and is not expected to return until Week 9 (the Thursday night game at Indianapolis). Though Mosley took 100% of the snaps against the Falcons, waiver-wire pickup Quincy Williams has proved he "belongs in the NFL," according to Saleh, after playing 92% of the snaps against Atlanta. He is second on the team with 31 total tackles in 4 starts and 3 forced fumbles.
Sherwood saw significant time on the field in Week 5, while Saleh indicated that Noah Dawkins could be elevated from the practice squad if needed, while also having Blake Cashman available.
"Obviously, this is another young group," Saleh said. "We have Dawkins on the practice squad and we'll find a lot of guys with a lot of playing time. Cashman is also back."
Speaking, in general, about his confidence in his team, which has the youngest roster in the NFL, Saleh said: "We believe in this group. We can win with the exciting group we've got. They're not being thrust out there because we've got no one else. They are good football players who deserve to be out there, and they are going to figure it out. You're always trying to win football games and we understand that with youth it could cost. Sometimes you fear that young guys will lose you more than they can win. But when they figure it out you'll see the swing, you'll be able to feel it from, even from the outside."