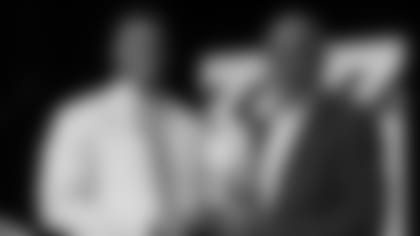 The NFL Players Association announced Jets linebacker Brandon Copeland as the recipient of the 2020 Alan Page Community Award on Thursday at its annual Super Bowl press conference. In recognition, the NFLPA will donate $100,000 to Copeland's Beyond the Basics foundation.
"Receiving this award from the NFLPA and my peers is truly humbling and serves as one of those moments where God lets you know that you are on the right path," the New York Jets linebacker said. "As I have said before, I hope that the legacy I leave here on Earth is much bigger than just being an NFL player. That is the driving force behind why I work so hard to make a positive impact on the people I cross paths with."
As the NFLPA's highest honor, the Alan Page Community Award annually recognizes one player who demonstrates a profound dedication to positively impacting his team's city and communities across the country, following in the spirit of the Pro Football Hall of Famer and social pioneer for whom the honor is named.
This winter, Copeland demonstrated the power of teamwork and giving. The five-year veteran linebacker put a twist on his annual "December to Remember" by enlisting the help of 11 active and former NFL players across the country: Josh Bynes, Joel Gamble, Duron Harmon, Kerry Hyder, Cam Lynch, Devin & Jason McCourty, Kevin Minter, Kyle Van Noy, Tahir Whitehead and Avery Williamson.
The collection of athletes banded together to host seven different shopping sprees for the holiday season in New York/New Jersey, Tampa, Baltimore, Dallas, Boston and Oakland on December, 16, 17 and 20.
The Week 16 Community MVP kicked off the initiative with a pizza party, during which he surprised 101 kids in the New York/New Jersey area each with a $200 gift card. Through Copeland's foundation, his NFL friends were able to follow suit, ultimately providing gift cards to more than 300 foster and underprivileged children across the country.
This holiday initiative is one of several done by Copeland's Beyond The Basics non-profit, which works to empower young individuals to maximize their potential by exposing them to enriching experiences, opportunities and people. Last year, Copeland held his fourth annual youth football camp in his hometown of Baltimore. The 400-plus participants not only learned about the sport but also about the importance of giving back by packing 1,000 book bags with school supplies and hygiene kits.
In March, Copeland plans to host The Basketball Classic: Celebrity Edition at Barclays Center. The outreach effort is meant to fill the stands with people who may not be able to afford an event at the arena so that they can enjoy the charity game as well as a Brooklyn Nets contest that same evening.
"I look forward to using the NFLPA's generous donation to continue empowering people, whether it be through community events or taking the time to have a simple conversation," Copeland said. "Honors and moments like this are a humbling sign that the work of our foundation is making a real impact."
Copeland was chosen as this year's Alan Page Community Award winner from among five finalists following an electronic ballot vote that was open to all of his NFL peers from across the league. The finalists – Copeland, Geno Atkins (Cincinnati Bengals), Brandon Carr (Baltimore Ravens), Demario Davis (New Orleans Saints) – were selected by an external committee of judges across labor, media, sport and charity from among the 18 Community MVPs awarded during the 2019 regular season.