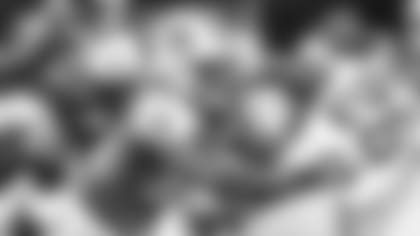 After spending his first four professional seasons with the Tennessee Titans, Avery Williamson has transitioned north and taken on a large role as one of the Jets' defensive play-callers at inside linebacker. Being the new kid on the block isn't necessarily something Williamson is used to, but he's found himself feeling at home more now than ever.
"It's tough you know, new playbook and having to make new adjustments, new calls," Williamson said. "So it's just a fact of getting comfortable out there." 
Williamson has been an impactful performer since entering the league in 2014 as he is just one of five players to register at least 10.0 sacks and 350 total tackles. Against the Giants, Williamson recorded nine tackles and added a forced fumble of Jonathan Stewart inside the red zone. Defensive lineman Leonard Williams recovered the loose ball and raced the other way, leading to at least a 10-point swing on the scoreboard.
"The first two weeks I was thinking a lot. But this is the first week I've actually felt like I was still thinking, but not as much," he said. "I felt like I was flying around and that's what I do. That's my game, flying around and making plays out on the field."
Throughout the summer, Williamson has been encouraged by the Jets ability to get off the field on third down and keep offenses out of the end zone.
"As long as we have grass at our back, we can defend it," he said. "You never know what can happen. So I'm proud of the defense for that, not allowing a touchdown. We still have some things to clean up, but I feel like as a whole, we did some good things. "
Aside from Williamson's nine tackles and forced fumble, he nearly had another forced takeaway after crushing Giants' tight end Evan Engram. But the call on the field was reversed following a replay review. While setting a physical tone, the new 'backer feels there is one area where the entire defense can improve upon.
"Communication. That's something that we're always preaching on, communication," he said. "We've been doing it well in practice, we just have to continue to do it better in games."