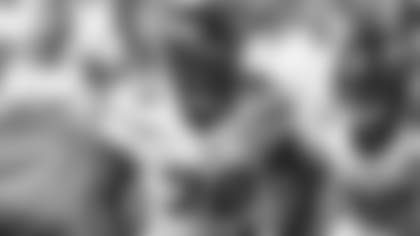 By any yardstick, Laken Tomlinson is, and has been an ironman on the offensive line during his nine-year career playing left guard in the NFL.
And this season he stands alone on the Jets offensive line, having played every snap (417) through seven games ahead of Monday night's clash with the visiting Los Angeles Chargers.
"Obviously, it super sucks to see your brothers go down like they have," Tomlinson said, speaking about injuries to C Connor McGovern (knee) and RG Wes Schweitzer (calf) in last week's OT win over the Giants. "Guys come in and adjust on the fly and you can't help but be extremely proud of how prepared those guys were. X [G/C Xavier Newman] came in and Billy Turner came in to help us win the game."
Signed as a free agent in March 2022, Tomlinson was a known quantity for the Jets' coaching staff after playing in San Francisco from 2017-20. HC Robert Saleh (who guided the 49ers' defense) and John Benton, the former Jets' OL coach/ run game coordinator were on Kyle Shanahan's staff. After being traded from Detroit to the Niners, Tomlinson missed his first game then played the remaining 15 games in 2017, then all 16 regular-season contests in 2018, 2019 and 2020. He played in all 17 games in 2021, when the NFL expanded the regular-season schedule with an additional game. Tomlinson has taken 100% of his team's snaps in six of the past seven seasons.
As the Jets prepare to trot out their sixth different combination on the offensive line -- a lineup of the "best five" available, which has yet to be finalized -- Tomlinson stands alone as the team's only O-lineman to start at the same position in every game.
"I'm not even looking at it like that," Tomlinson told The Associated Press. "I'm just looking at it like we've got these five warriors out there just ready to help the team win. Obviously, we've been extremely unfortunate with the injuries, but guys are busting their tails off and we've got some guys out and got some guys back in.
"But we're going to be alright. We've got the right type of guys in the room."
Tomlinson and Mekhi Becton have been steady on the left side of the line, but that could change with the return to practice of the veteran Duane Brown. Does that mean Becton moves back to the right side, where he began this season next to Alijah Vera-Tucker, who is now out with a season-ending Achilles tendon tear?
"I think Mekhi will be good right, left, guard, he has that type of talent," HC Robert Saleh said. "You never know. Mehki is a freakish athlete. I think as he continues to evolve his career, obviously you'd love for him to be a left tackle, but where we are at right now, we just have to make sure the best five are on the field somehow, some way to protect the quarterback and give him some time."
Tomlinson and the Jets' O-line will face a challenge from a Chargers' defense -- albeit one that is statistically one of the worst in the league -- that features Khalil Mack (7 sacks) and Joey Bosa (4 sacks). So far this season, Tomlinson has allowed 3 sacks and committed a couple of false-start penalties, according to Pro Football Focus. And when it comes to guys named Bosa, Tomlinson has some history to go on, having practiced against DE Nick Bosa when they were teammates in San Francisco.
"I'm definitely going to use some of that knowledge [practicing against Nick Bosa] to benefit me," Tomlinson said. "Those Bosa brothers are great athletes, great players. It's going to be a challenge for us."
With Brown and possibly rookie Joe Tippmann (quad), who missed a game with an injury, possibly returning, Tomlinson could be playing next to his fourth center in the last two games. Tippmann was drafted as a center out of Wisconsin to backup McGovern but has only played right guard in the six games of his NFL career. The Jets used three centers last week -- McGovern, Schweitzer and then Newman.
"Obviously, we have to make sure communication is down the chain, get everyone on the same page and go from there," Tomlinson said, referring to the prospect of being next to yet another center. "Once we get that we can mesh and get plays going."
How steady has Tomlinson been over his career? Consider these stats (courtesy of Randy Lange) ... With McGovern on injured reserve, Tomlinson now has the most offensive snaps on the Jets in the past two seasons -- 1,529. Over his career, he has been called for 15 holding penalties (per StatsPass), but none in his 24 games for the Jets.
There's more. According to TruMedia, Tomlinson's current streak of 89 consecutive regular-season starts since 2018 is tied for second-most by an O-lineman in the NFL and is the longest streak among guards. Since 2017, Tomlinson's current streak of 104 consecutive regular-season starts is tied for fourth among all OL. Finally, his 6,550 offensive snaps since 2017 are sixth-most among NFL offensive players, and his 5,546 snaps since 2018 are seventh-most among OL.
As one of the sturdy and wily veterans on the Green & White, Tomlinson said he still gets an extra charge playing in nationally televised games like the one on Monday night against the Chargers.
"Guys like to show out man," he said. "It's a big stage. We're going to go out there and play our style of ball."