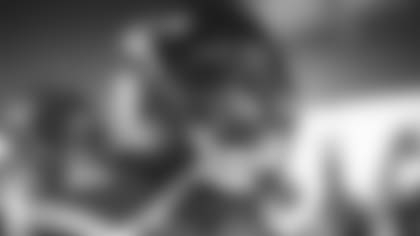 During his time in New Orleans (2017-20), Jets CB Justin Hardee made it his goal to be named a special teams Pro Bowler. After coming up shy in the past, Hardee left no doubt in his second season with the Jets being named to the 2023 Pro Bowl roster.
"I fell short for years," Hardee said. "But I can honestly say, better late than never. I am glad that I happened for me now instead of then, because I appreciate it that much more because I had to go through so much."
Undrafted out of Illinois in 2017, Hardee began his pro career in Houston before being waived before to the start of the season. Five days later, he joined the Saints' practice squad and earned a spot on the active roster.
In his four seasons in New Orleans, Hardee registered 32 tackles and helped the Saints to 4 consecutive division crowns, but watched his many of his teammates earned Pro Bowl honors, and added that to his list of motivations.
"When I first got in the league I didn't really care about any accolades," he said. "I just wanted to show I can play in this league. Once I was able to get around that and being around all the winning and other guys going to the Pro Bowl, I set that as one of my goals."
And with the Jets in 2022, he achieved it. Hardee, a special-teams captain, signed with the Jets in 2021 and has been a staple in punt and kickoff coverage throughout the league. This season, he's tied for third in the NFL with 15 special teams tackles. 
"It was just like, wow, one of my dreams actually came true, you know?" Hardee said. "I didn't get that feeling of being drafted. I didn't get that call, like, 'Hey, man, we're coming to get you,' or anything like that. And I haven't gotten a championship and I haven't gotten a national championship or a state championship in high school or a Super Bowl just yet."
Hardee found out about the honor in a team meeting. He said the moment was surreal and came as a shock despite an impressive résumé.
Hardee made impact plays all season including a forced fumble in Week 4 at Pittsburgh and recovered an onside kick in Week 2 at Cleveland that set up an improbable come-from-behind victory.
"The whole moment was crazy," Hardee said. "I wish it got recorded, but I know it is a memory I will never forget. I was kind of surprised because you really never know. I kept spreading good feelings but the whole thing was in god's hands."
Hardee dedicated the honor to his mom Estella Perryman who died on Dec. 12, 2013, after a long struggle with lung disease. Over the holiday, Hardee traveled home and visited his mother's grave. She remains his main motivator.
"Every time I walk out on that field, every day, I'm representing her all the time," he said. "Every time. See the smile on my face? I haven't been able to see my mom on Christmas in years. And she's not even here, but she's still here."