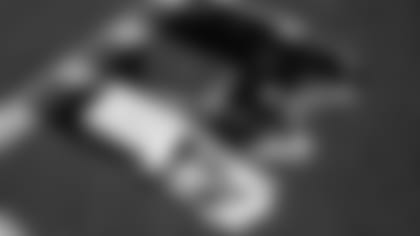 The Jets, in collaboration with Jordan Brand, unveiled three custom Air Jordan 1 Low shoes created to commemorate the new team uniform colors. The "Gotham Green", "Spotlight White", and "Stealth Black" shoes - representing the dominate color of each new uniform - were made from football materials and have the uniform color names embossed on the heel. The New York Jets unveiled the new uniforms during an April 4, 2019 event in Manhattan.
Jets safety Jamal Adams teamed up with sneaker designer and artist Ceeze, who handcrafted the three bespoke Air Jordan 1 Lows. With Adams' insight, Ceeze designed and created the shoes to represent New York Jets culture and lifestyle and a representation of the team's new look.
Key design features of the New York Jets Jersey inspired Air Jordan 1 Low shoes include:
Three individual styles – one for each new uniform.
Jersey color names – Gotham Green, Spotlight White and Stealth Black-embossed on the heel.
Football material on each shoe.
Custom kit with box, dust bag and insole to match each shoe.
Fans can enter to win a pair of "Stealth Black" Jets AJ1 Lows on CrowdRise. A $10 donation between now and April 26, 2019, will automatically enter you for a chance to win one pair of the exclusive shoes. Fans can make multiple donations. All net proceeds will benefit the New York Jets Foundation's Jets Tackle Bullying program. The Jets Tackle Bullying program presented by Municipal Credit Union (MCU) is a collaboration with STOMP Out,
Bullying to tackle all forms of bullying by raising awareness, providing tools for educators, and preventing bullying for kids and teens. For more information or to make a donation, please click here.