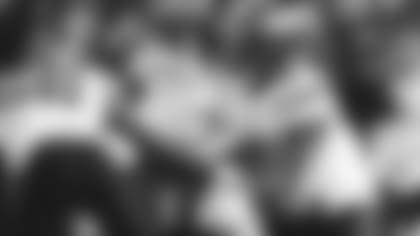 Without injured starting DL Sheldon Rankins (elbow), the Jets mustered a strong pass-rush as DL John Franklin-Myerscontributed to a a dominant day for the D-line. Franklin-Myers split 2 sacks and registered 2 Q B hits in a 10-3 loss at New England.
"It goes back to coach putting us in good positions and understanding how to rush with each other and how to play off one another, which was great," Franklin-Myers said. "… We expect to win every one-on-one and are not happy when we don't. But overall, today [Sunday ]was progress. We're excited about it."
Off the bye, the Jets rode a stong game from their pass rush, registering 6 sacks, 8 tackles for loss and 8 QB hits. The defense did not surrender a touchdown and Franklin-Myers put Patriots QB Mac Jones under pressure from the get-go.
On the first play of the game from scrimmage, Franklin-Myers and LB Quincy Williams converged on Jones for a 7-yard sack. Rushing from the right side, Franklin-Myers pulled inside and into Jones' face to finish the sack after Williams made the initial contact.
"I think he did a good job containing [Jones]," Franklin-Myers said. "He didn't run too often. We did a good job of that."
With 9:01 remaining in the fourth quarter, JFM beat TE Jonnu Smith off the ball and got to Jones for a split sack with Williams again and an 11-yards loss. Franklin-Myers' QB takedowns ultimately resulted in punts at the end of drives.
As a unit, the Jets defense has totaled 12 sacks of Jones in 2 games this season and 17 in their last 3 games.
With bitter-cold winds whipping and the offense struggling, Franklin-Myers expected a strong defensive performance, and particularly the pass rush, in the low-scoring game.
"It is a mindset," Franklin-Myers said. "We expect to shut out and today was another game and opportunity. The Patriots have some great players and great running backs, they break a lot of tackles. We understood we had to get people to the ball, and I think we did a good job of today."
In two games against the Patriots this season, Franklin-Myers has 2 sacks, 3 QB hits and 6 tackles. For the season, he has 3.5 sacks and 22 tackles. and has tied a career-high with 14 QB hits.
Despite a disappointing final score, Franklin-Myers still believes there were positives as the Jets head into the stretch run of the final eight games of the regular season.
"The season isn't over with," JFM said. "Still plenty of football left and plenty to play for. It's just another game. We have to learn from this and be better."