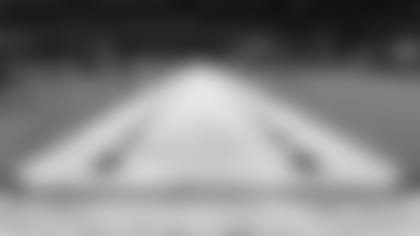 Pro football today is all about _.
You can fill the blank with any of several words and sound like you're an observant NFL regional scout: intelligence, toughness, consistency, size.
But for Jets general manager Joe Douglas and head coach Adam Gase at the start of the NFL Combine workouts in Indianapolis, the name of the game Tuesday was "speed."
The subject came up initially when the Jets executives were asked during their respective news conferences about potential UFA-to-be WR Robby Anderson.
"Robby Anderson has a skillset a lot of teams are looking for," Douglas said. "I think he can run by anybody."
"It's great," Gase said, "to have a guy that can go over the top, that can really stretch the field, cause the safety to lean one way, make sure that they have some two-high looks, which just opens up some lanes for the running back. Anytime you add speed to your team, that's a positive thing for your offense."
Douglas and his front office team are set to have discussions with Anderson's representatives about the possibility of keeping Robby with the Green & White. But whether No. 11 returns or not, more speed is out there and available to bring to the New York market, in particular from among the players who are testing this week and next at the Combine.
"There's a lot of 'em," Gase said. "The wide receiver group is a large group. There's a lot of speed, there's a lot of guys with experience, there's a lot of guys that can do a lot of good things."
Of course, there are more very talented wideouts who have traits other than raw speed, such as Oklahoma's CeeDee Lamb, Colorado's Laviska Shenault, Clemson's Tee Higgins and LSU's Justin Jefferson. And the Jets have needs not only at WR but at other positions, such as edge rusher, offensive line and cornerback. But Douglas sees some other traits that shine through at all those positions.
"Well, I think you saw that in the two teams [Chiefs and 49ers] that competed in the Super Bowl this year, how many explosive players they had on both sides of the ball," Douglas said. "Look, I mean, everybody's trying to get bigger, faster, smarter, tougher. So we need explosive guys. We need explosive dynamic playmakers."
And did we mention speed? Yeah, thought we did.