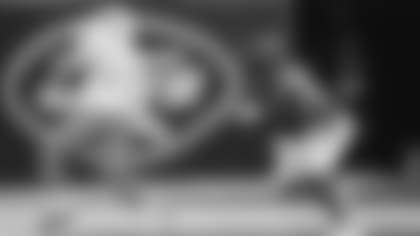 Javelin Guidry signed with the Jets as an undrafted free agent out of Utah this past May and finished his rookie season leading the team with four forced fumbles.
"Confidence in myself," he said of his rookie season. "Coming into work every day, keeping my head down and going to work. Just trusting what the coaches told me and make the most of my opportunities really. Just being around the guys, we had great times on and off the field, socially distant of course. It was a great time, a great year."
Guidry started two games in the 2020 season (Week 14 at Seattle and Week 15 at the Rams) but emerged as a contributor on defense starting in Week 12 when the Jets hosted the Dolphins at MetLife Stadium. After not registering a solo tackle from Week 4's game against the Broncos -- when he was signed from the practice squad to the active roster -- to Week 11 against the Chargers, Guidry had at least 1 tackle in each game he played through the end of the season. He had a career-high 6 solo tackles against the Rams in the Jets' first win of the season and finished with 21 total tackles (15 solo), 1 QB hit and 4 FF.
"I'll give a lot of props to [S Marcus] Maye," Guidry said. "He definitely helped me a lot with my progression being a professional and making plays on the field as well. He makes sure everyone is lined up and he leads us out there each and every day of the week. He's a great leader."
He added: "It's just a family atmosphere that we had in the room, but when it's time to work, we always locked in. We definitely learned a lot off of each other, the experience on the field, being able to not make the same mistakes, that's the main thing. It's a great group. I love my guys and we have fun out there."
Guidry's scouting report is centered on speed. He ran the second fastest 40-yard dash at the 2019 NFL Combine, 4.29 seconds. He was a 100-meter high-school champion in both Texas and California, including the fastest all-conditions time (10.13) in California history, in 2017. Football, however, is in his DNA. His father, Javelin, and uncle, Paul, both went to UCLA. His younger brother, Elisha, just completed his junior season for the Bruins. Instead of following in his family's lineage, Guidry went to Utah where he played three seasons before declaring for the NFL. Now, he's preparing for his second season with the Green & White.
"[I stayed] focused on what I had to do, stayed in my playbook and really just worked," he said. "Whenever my opportunity came, I made sure I was ready to go and I believe I did that. It felt good to be out there."
Guidry added: "Everyone is going to go off to their own places and relax for a little bit, but then get right back to work for next year."