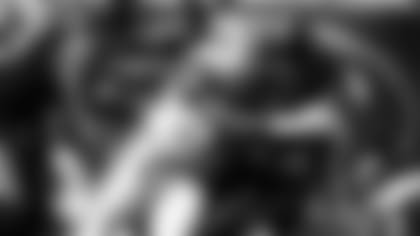 Reaching the Quarter Mark
Opportunity is at hand. Despite entering Week 4 on a two-game losing streak, the Jets can even their mark at 2-2 with a win over the Jaguars. This concludes a start to the season where the Jets will have played three of four on the road. If the Green & White can claw out of J-Ville with a victory, a three-game homestand is on the horizon: Denver, Indianapolis and Minnesota in Weeks 5-7. After capturing just one road contest in 2017, the Jets have another chance to double that total at TIAA Bank Field.
It's a Matter of Trust
With an extended weekend off, rookie quarterback Sam Darnold took some time for self-evaluation and felt there were elements to the game that he can correct moving forward. Through three games, the 21-year-old has connected on 60.2% of his passes for 701 yards with three touchdowns and five interceptions.
"Going with my gut feeling and really trusting my eye, trusting what I see and letting it rip," said the red-headed rifleman. "That's where the biggest thing is just going 1 to 2 to 3 and just going through it like that. Going through my reads quick and again decisively, but at the same time just trusting what I'm seeing out there. Every time I look back at my first read, sometimes I would think the defense is maybe not going to give me something and I would skip over a progression. I was like, 'Man, if I really just look at that first progression, then it was there.'"
Spotty Jaguars
While the Jets were limited to 14.5 points a game in losses to the Dolphins and the Browns, the Jacksonville offense was totally shut down in last Sunday's 9-6 defeat to the Titans. In addition to failing to score an offensive touchdown, they only crossed midfield twice and never reached the red zone. A week after having their way against the Patriots with Blake Bortles passing for 376 yards and four touchdowns and the Jags converting an amazing 10-of-14 (71%) on third down, they totaled just 232 yards while losing their third straight to Tennessee. Star RB Leonard Fournette is dealing with a hamstring injury, LT Cam Robinson (torn ACL) is out for the year and the Jags were also minus starting RG A.J. Cann against a Titans team that welcomed the fight in a phone booth.
"We killed ourselves," Bortles said. "Stupid penalties, drops, missed throws. We've got to not hurt ourselves, especially the way our defense is and the way we play. We've got to score one touchdown to win the game. To go out there and score six points in four quarters, that's bad as an offense."
Pound Away
This Jacksonville defense is as talented as any defensive unit in football. They are tied for second in scoring (14.7 Pts/G), third in pass defense (171 Yds/G), fourth in yards (286.3 Yds/G) and seventh on third down (32%). They have studs at all three levels, starting with Calais Campbell and Malik Jackson up front, Myles Jackson and Telvin Smith are an impressive pair of 'backers and perhaps the NFL's top cornerback tandem resides in J-Ville in Jalen Ramsey and A.J. Bouye. They are loaded, but the Jets churned out a staggering 256 yards on the ground in last year's 23-20 OT win over Jacksonville in Week 4. And while the Titans were held to just nine points, they did pick up 150 rush yards (QB Marcus Mariota had 51).
"This is one of those games that's an identity game for us, where we have to be able to run the ball," said LT Kelvin Beachum this week. "They know that, we know that. Coach Bowles has talked about it and we have to be able to go out and execute."
Vertical Horizon
The Titans dared Bortles to throw deep last week and he declined the invitation. The Jets relied on screens to Quincy Enunwa on Thursday in order to convert three third downs. In a game where space figures to be extremely limited, will one of these clubs be able to go over the top to loosen things up? Through three games, it's actually the Jets who outpace the Jaguars in sacks: 8-to-7.
"It's really understanding what the defense is trying to do and just get it in my playmakers' hands and let them go do their work," Darnold said. "Take the shots when they're there — that's really going to be the biggest thing for me as I continue to move on through the season. Just take what the defense gives me and that's pretty much it. Just take what they give me and then when the shot is there take the shot because if we just keep on taking the underneath stuff then hopefully the shot is going to appear."