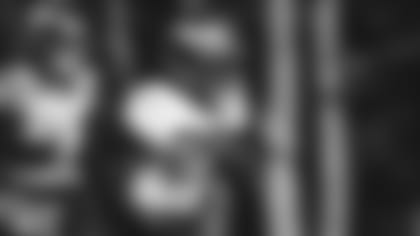 Rookie RB Israel Abanikanda will get his first career taste of NFL regular-season action when the Jets visit the Bills Sunday in Week 11game after the team released RB Michael Carter on Tuesday.
"I really appreciate all the things that [Carter] has done," HC Robert Saleh said. "But it came down to just wanting to give Izzy [Abanikanda] an opportunity. He's a good young back and we felt like it wouldn't be fair for Michael to just sit there and rot."
The decision to release Carter was bittersweet for Abanikanda. Abanikanda, the Jets fifth-round selection (No. 143) in April's NFL Draft, was inactive for the first 9 games. He spent the start to the season studying behind Carter, veteran Dalvin Cook and second-year starter Breece Hall. Carter, who the Jets drafted in fourth round in 2021, had been one of Abanikanda's main mentors and supporters since he joined the team.
"From Day 1 and the moment I walked in here MC [Carter] has shown nothing but love," Abanikanda said. "He grew to be my brother. I was deeply sad with what happened. And I am definitely going to miss him. I texted him after yesterday to let him know how much of an influence he was on me. I learned a lot.
"I was just learning and listening to the veterans, getting extra work, and practicing hard. I have had to keep my mind straight and keep my mentals straight through the past few weeks and not giving up. Keep working."
While at the University of Pittsburgh in 11 games as a senior, Abanikanda rushed for 1,431 yards (6.0 yard per carry), 20 rushing touchdowns, and totaled 12 receptions for 146 yards and 1 score. During that season, he broke Pro Football Hall of Famer Tony Dorsett's single-game school record-running for 320 yards and 6 touchdowns in a 45-29 victory over Virginia Tech.
Abanikanda is an explosive and versatile tailback with good size (5-11, 215) and Saleh said Wednesday he's excited to let the young tailback 'loose.'
"We know Izzy has speed and is a big, strong, powerful back," Saleh said. "We will see what he is and what he has got. We're about to find out for sure. But he's going to provide more for special teams and then just being able to supplement some of the touches and just see what he's got. Fresh legs is a real thing and he's already got speed, so it'll be fun."
Abanikanda added: "It is a blessing to get in and get some game action. I have been staying ready and working for the past few weeks. It is just football."
Abanikanda flashed during the preseason. Before he missed the Jets preseason finale with a thigh contusion, he rushed 25 times for 113 yards and touchdown. He also had 5 receptions for 37 yards in the first three games.
During the Pro Football Hall of Fame Game in August against the Browns, Abanikanda took a handoff from QB Tim Boyle and got around the edge for a 10-yard touchdown. QB Zach Wilson is excited to partner with young back for the first time since the summer.
"He is a stud," Wilson said. "I obviously got to see him all the way through training camp and the preseason, and our lockers are right next to each other. A great dude and phenomenal guy. I am excited to see what he can do. I think he is a great player that does all the right things."