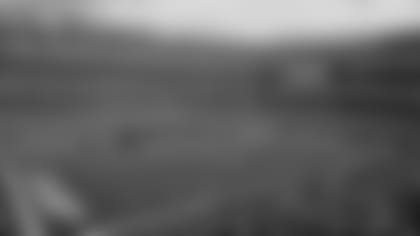 The buzz has returned. With fans back at sporting events throughout the New York metropolitan area this spring, the noise is growing. But things won't truly feel the same for the Jets and their fanbase until Sept. 19 when the Green & White will open their home slate against the Patriots. It won't be long now as we've reached 100 days until Jets-Patriots at MetLife Stadium.
Earlier this week, Jets head coach Robert Saleh visited his home venue with the members of the team's operations and gameday/special events staffs.
Saleh said: "It was really an opportunity to go through a walk-through and (discuss) anything we may want to add or take away to created a better gameday experience not only for our fans but our players. It was an awesome experience, I had a chance to take the kids over there. It was good for them, they got a free day out of school. It was great, it was awesome to be able to go there. I can't wait for fans to be able to fill it up."
He was serenaded with a J-E-T-S chant through the speakers at the empty building.
"We walked out of the tunnel and they blared the J-E-T-S chant," he said. "I'm not going to lie to you, I got a little goosebumps. I'm really excited to get it going and get that stadium filled where that thing becomes live again like it's been in the past."
Saleh has been a spectator at a number of New York playoff games. He attended Game 2 of the Knicks-Hawks series, elevating to celebrate an Obi Toppin alley-oop dunk in the fourth quarter that sent Madison Square Garden to bedlam mode.
"It was awesome," Saleh said of the environment during the Knicks' 101-92 triumph. "Obviously, the Garden, it lived up to its reputation. From an outsider looking in, and all you hear about is the Garden, and it was awesome.
"But yeah, we've talked about it before that, New York fans are extremely passionate. They love their home teams, they're rabid to a sense. And it's awesome. It comes from just absolute love for their teams. But like everything else in the world, you got to earn it. You got to earn the response that they gave the Knicks, and the Knicks have done a phenomenal job rebuilding that organization. And what you heard at The Garden yesterday was phenomenal. And yeah, so we're excited about all the work we're putting in. We're excited to get the opportunity to earn the same response at MetLife stadium and let the fans light that place up."
Saleh wanted more fireworks in June, so he crossed a bridge, or two, and headed to the Jets' first home — Long Island. Donning a No. 86 jersey he wore again during his meeting with media this week, the Jets' head coach cheered the Islanders on throughout a overtime thriller that went Boston's way.
"There is a lot passion in this city and a lot of hunger for a lot of winning," Saleh reiterated from the seats of the cozy Old Barn referred to as the Coli. "And hopefully we can get the same response that all these teams that New York has and bring it back to the Jets organization and see if we can have some fun doing it."
Jets players have had a ton of fun celebrating the New York sports scene themselves. After rookie quarterback Zach Wilson and a bunch of his offensive linemen attended an Islanders-Penguins, the Game 4 clash in Round 1, Wilson and friends took even a larger group to the Nassau Coliseum for the Isles' 4-1 beatdown of the B's in Game 4 of Round 2. At both games, new Jets OL Dan Feeney endeared himself to the crowd by shot-gunning a beer.
Last Saturday night, Jets GM Joe Douglas was in Brooklyn, attending the opening contest of the Nets' Round 2 series with Milwaukee Bucks. Douglas, who significantly improved the Jets' talent this offseason, looked on in an Bret "The Hitman" Hart shirt as Kevin Durant and Kyrie Irving poured in 29 and 25 points in Brooklyn's 115-107 triumph.
The Jets haven't played a regular-season game in front of fans at home since Dec. 22, but the hits are coming back to MetLife Stadium. They'll play nine regular-season homes games and there is no better opponent to get Saleh's New York era underway than the Patriots. The countdown is at 100 days.
"To our fans, we embrace your passion, we embrace your expectations," Saleh said when he was introduced as head coach. "We cannot wait to go on this journey with you."