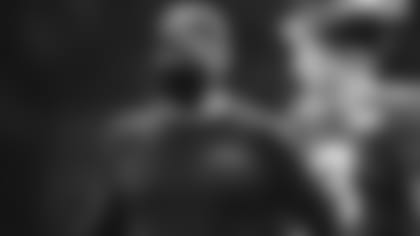 While most of the rest of the country on Monday was observing Labor Day by not working, the Jets and Head Coach Adam Gase were back at it at the Atlantic Health Jets Training Center, diligently preparing for Sunday's regular-season opener at Buffalo.
After successfully navigating perhaps the most weirdly challenging training camp of his career amid the COVID-19 pandemic, no preseason games, plus cutting down the roster and constructing a practice squad, Gase on Monday said that "our goal is to be playing in January, but we're in Week 1 and there's a long way to go."
In a conference call with reporters, a session that included General Manager Joe Douglas, the two men said they are committed to working together, now and in the future.
Speaking about navigating through the pandemic, Douglas said of Gase: "Adam's done as well as anyone, rolling with punches and adjusting on the fly. Our communication has been on point and direct. His leadership has been strong. It's been direct. I've been really impressed."
In his first season with the Green & White, Gase's squad endured a 1-7 start, but held together to go 6-2 in the second half of the season. Douglas joined the club in June 2019, after the NFL draft and before the start of training camp. Since then, the working relationship between Douglas and Gase has grown strong in an intense, demanding and results-oriented sport.
"The communication is outstanding," Gase said. "We've known each other for a little bit. Our dialogue is smooth, there's so much back and forth. We work well together. Even the uncomfortable discussions have been good. We know what we're trying to work to -- that's how to put ourselves in the best position possible to play in that last game."
The unusual training camp leading up to the start of the regular season has left the Jets and the other 31 NFL teams in wait-and-see mode. Injuries have hampered Gase's evaluation of his players.
"The injuries in camp make it hard to get a good picture of what we're going to end up being," Gase said. "As the season evolves there will be improvement. Getting back a guy like [Chris] Herndon, one of the guys no one talks about, is key and there's fabulous chemistry [between him and QB Sam Darnold]. With Lev [Le'Veon Bell] and Frank [Gore] back there we're starting to make plays. With the wideouts, what we have envisioned in our minds we just haven't been able to do it on the field because they haven't been healthy yet."
Gase added: "We have a great challenge facing a division opponent [on Sunday]. We have a lot of hungry guys who want to go out there and prove a lot of people wrong. Frankly, I'm excited about this group going up to Buffalo this weekend."
After cutting the roster to 53 players on Saturday, the Jets' roster included three quarterbacks -- Darnold, veteran Joe Flacco and rookie James Morgan. That number climbed to five when David Fales and Mike White were signed to the practice squad. That opens the possibility that the Jets, as some other teams are planning to do, might designate one of them as their "Quarantine Quarterback." The Eagles have signed the veteran and former Jets player Josh McCown for exactly that reason, and will allow McCown to remain and train at his home in Texas.
"It's something we've discussed," Gase said. "This week we won't. Moving forward we'll keep discussing what the best move for us will be." And needling reporters, Gase added, "You want to know this bad, we'll let you know as soon as we decide."
Gase added, speaking about Douglas: "Joe's an old offensive line guy, he wants to stack it up on the line. I'm a quarterbacks guy. I want a lot of quarterbacks."