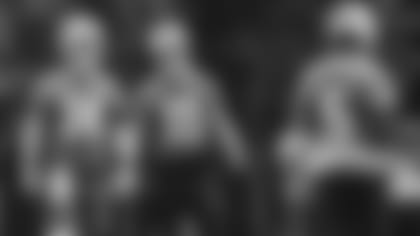 In two weeks, the Jets will open up the regular season in Detroit. Head coach Todd Bowles, who has started rookie Sam Darnold the past two preseason contests, says he is still at least a week out from making a decision.
"I definitely won't do it today," Bowles told reporters. "Sometime next week — maybe."
Darnold has completed 64.4% of his passes this summer for 244 yards with two touchdowns and one interception. Appearing in all three games, Teddy Bridgewater has connected on 73.7% of his throws for 316 yards with two scores and an interception. And Josh McCown, who started 13 games a year ago, saw just a couple moments in the preseason opener against Atlanta and completed his only pass.
"I have my ideas in my head which I'll keep to myself at this point," Bowles said. "But I have a good idea."
Four-for-Four
With the Jets set to conclude their preseason schedule against the Eagles Thursday night in Philadelphia, the team added a second rookie signal caller to the roster Sunday morning. John Wolford, who passed for 8,794 yards and 59 touchdowns at Wake Forest and who was one of 44 tryout players at the Jets' rookie minicamp, returned to the practice field after signing with the Green & White. He could see action in the second half in Philly.
"We're thinking about practice squad," Bowles said in regard to Walford. "We wanted him to come in and see if he can learn the system a little bit, so we brought in a guy a week early because we had an extra spot to use."
The Next Step
After being limited to a pair of field goals on two drives that reached the Washington 20, Darnold led the Jets two touchdowns on his two trips inside the red zone against the cross-town Giants. While he was pleased with that outcome, he wants the offense to do a better job when they are in the shadow of their own end zone.
"It was awesome to be able to do that," said the USC product. "Now it's just taking that next step when we're backed up, being able to get those two first downs so we can flip field position on them and hopefully scoring on those drives as well."
Although efficient, Darnold hasn't been able to take too many shots down the field in game action.
"They've been dialed up. Obviously when teams go two-high (safety) in Cover 2 and you can't take them, you have to check it down," Bowles said. "He's taking his reads. Obviously they've been dialed up quite a bit, but (there's) been coverages and defenses where you don't take that shot. He's just playing smart football, but we do have them dialed up."
Unlucky Thirteen
The Jets were charged with 13 infractions Friday and four of them occurred on special teams. The Jets also yielded a 55-yard scoring return from Hunter Sharp and rookie Trenton Cannon lost a fumble inside the Jets 20 that turned into another three points for the Giants.
"We'll work on miscues, but this is training camp and guys are trying to make the team so we want to see certain things." Bowles said. "We can directional kick and do a lot of things, but we want to see certain guys cover and see who has the wherewithal to some things to make the team. A lot of the things are experimentation and you learn by trial and error, but we're giving these guys a chance to play and make the team."
Jetcetera
Wideout Jermaine Kearse (abdomen) and running back Eli McGuire (foot) wore practice jerseys but did not participate in today's session. While Kearse is improving, Bowles said he is day-to-day, week-to-week. McGuire has been ruled out for the regular season opener in Detroit... Cornerback Rashard Robinson, who tweaked his hamstring Friday night against the Giants, and ILB Kevin Pierre-Louis, both stretched with team but did not have helmets... Veteran back Isaiah Crowell, who returned to the lineup in the MetLife Bowl and had two receptions, along with McGuire, Robinson and cornerback Jeremy Clark were all on the bikes as the media viewing of practice concluded… Both Quincy Enunwa and Marcus Maye said they were a "good sore" following their preseason debuts.