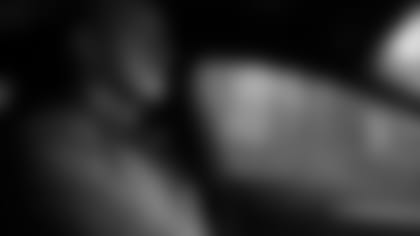 Jets HC Robert Saleh was perched behind the wheel of his black Chevy Tahoe as one of the featured players in "Flight 23: Ascension (Episode 1)" video, produced by 1JD Films.
And Saleh gets right to the point: "We were just a quarterback away. We had one guy in mind."
Of course, that "one guy" was Aaron Rodgers
"We're loaded with young talent, the quarterback spot was a unique process," said the Jets' HC. He added: "Quarterback is the most important position on a football team. With this roster we want to try to put it in the hands of a veteran in the fourth quarter, to have a veteran to put us over the top we felt was the right thing to do. There's a lot of promise and a lot of excitement leading into the 2023 season."
That buildup began in earnest this week with the start of the Jets' series of OTAs, leading to minicamp next month and the start of training camp in mid-July ahead of the Green & White playing in the Hall of Fame Game in Canton, OH, on Aug. 3. After three more preseason games, the Jets and Rodgers will open at home against AFC East rival Buffalo on Monday night, Sept. 11. Jets Nation is waiting to see their No. 8 under center, Saleh is, too.
"He just plays a different game, he's had so much experience and seen every defense, every blitz, every package front," Saleh said while on the road. "He's well-versed in the scheme. When you're playing against a guy like Aaron Rodgers, there's a tendency to want to trick him, but you really end up tricking yourself. With him, it's a battle of wills, but he'll know what you're doing, pre-snap. His execution is always at a premier level.
"Aaron Rodgers' résumé speaks for itself. Once you realize he's 39 and still throws the ball like he's in his early 30s, there's a lot of energy and athleticism. He can still rip it."
Saleh added: "From my understanding, he called a two-minute drill his entire career. He has an ability to move chains and score in the last two minutes, which is when most NFL games are decided. He's done it his entire career. He has that ability to convert third downs and keep the offense on the field. He can score with explosive plays or long drives -- he's a special talent. And the thing is, when he's in the red zone he scores points. That's a big deal in this league."
... This Is Your Pilot Speaking
From total darkness comes new light for the Jets.
When Aaron Rodgers descended into his darkness retreat a few months ago no one, himself included, knew if the four-time NFL MVP would decide to play football in the 2023 season. When he emerged, not only had he decided to play, but he decided to play for the Green & White.
During a sit-down interview at the Atlantic Health Jets Training Facility for "Flight 23" Rodgers explained what brought him from the Midwestern splendor of Green Bay to the bright lights of the Big City.
After a bit of fiddling with his microphone and some friendly banter, Rodgers dished on what brought him to the Jets.
"I can't say I haven't been dreaming about this," he said. "Once I realized that it was not just a probability, but an almost certainty, you start to take your mind to a lot of the different things a new place has to offer. The first time you walk into the building, the first time you walk past the [Super Bowl III] trophy, the first time you meet some of the guys, the first time you walk into the locker room, the first time you sit for an interview.
"Deep down there's a lot of excitement, a lot of gratitude, not just for playing 18 years in Green Bay, but the opportunity to play for another iconic franchise."
Part of the allure for the 39-year-old California native is the culture and the team built over the past few years by GM Joe Douglas, HC Robert Saleh and their staffs, infusing the organization with a new sense of possibility. The collection of young talent is undeniable, adding to a potent mix of veterans.
"The passion, you can feel it," Rodgers said. "Last year in Green Bay, there were so many Jets fans [who watched a 27-10 NY win] there and their passion, you could feel it. They'll travel, they'll show up, that's an exciting draw to this. When I'm all in, I'm all in. I wanted it to be a full F-yes.
"Coming out of the retreat and getting back to working out, when I came out this was really the only place I wanted to be. I have a lot of respect for Coach Saleh and way he goes about his business. This to me seemed like the best place to be, and only place to be. I felt the pieces are in place to make a run and get another one of those trophies. I just have to trust that this is the path."
'Flight 23' Director Seth Bradley
Hundreds of hours of video and thousands of words amassed across the Jets' offseason were boiled down, massaged and edited into a digestible bit of less than one hour to produce "Flight 23: Ascension (Episode 1)," according to Seth Bradley, a director of the new docuseries (the first of three episodes is now available at newyorkjets.com, on SNY and CBS, and on YouTube).
"I wanted the buildup from January until the moment he arrived," Bradley told team reporter Eric Allen on a new edition of "The Official Jets Podcast," referring of course to QB Aaron Rodgers. "I don't think I've ever been a part of a moment here, having the media talk about the Jets everyday was something I've never been a part of here.
"It's been awesome. The whole thing of acquiring Aaron Rodgers through the offseason, it was one of those things that didn't feel real."
The segment with HC Robert Saleh driving early in the day from his home to the Atlantic Health Jets Training Center came early in the episode, but also set the tone for what was to come after.
"Coach Saleh has always been great," Bradley said. "We had three people [in the car], two shooters and a producer, I'm in the back. It's an early-morning ride to work. Coach gets up early, he gets here early, so we're there and ready to roll. Coach, from the day he walked in, preached building this thing the right way. We felt that from a production standpoint. Everyone is so great to work with. You want to root for them, you feel it every day."
Bradley said that from that day in early January -- when Chairman Woody Johnson, GM Joe Douglas and Saleh said that the Jets would pursue a veteran QB -- he knew it would be the top story of the offseason.
"From that moment, I knew that it would be the No. 1 story the entire offseason," Bradley said. "This story became bigger than the Jets, kind of bigger than the NFL and historically it's one of biggest acquisitions in sports in terms of attention."