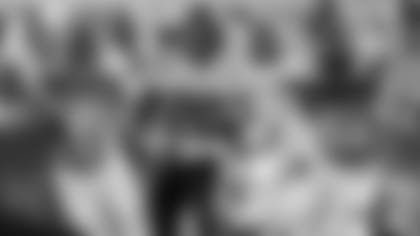 At one point of the Jets' fourth-straight road victory, 16-9 on Sunday at Denver, quarterback Zach Wilson looked around his huddle and said: "Where are they all at?"
The "all" he was referring to was rookie running back Breece Hall, veteran wide receiver Corey Davis and versatile second-year offensive lineman Alijah Vera-Tucker. All three sustained injuries during the first half against the Broncos. None returned to the game.
Hall's injury came after his impressive 62-yard jaunt along the near sideline for the game's first score. On the play, WRs Davis and Denzel Mims made key blocks that opened the field for Hall. Mims was playing in his first game this season for the Jets (5-2) after second-year WR Elijah Moore was left home in New Jersey.
Hall, who exited after a 2-yard carry late in the second quarter, was on pace for his second straight 100-yard rushing game, something that hasn't been done by a Green & White rookie in the regular season since Clark Gaines in 1976. In Hall's absence, Michael Carter came on to notch 13 carries for 23 yards rushing and Braxton Berrios picked up 27 yards on his 2 touches.
Asked about Hall's prognosis after the game, HC Robert Saleh said: "Not good."
"Breece, it does not look good, the knee is not good," Saleh said, adding that the initial evaluation is an injury to one of Hall's ACLs. "Corey is also dealing with a knee. He was cleared to play, but was not feeling right. I'm not concerned long term. AVT is dealing with an elbow and will be evaluated on Monday."
Hall was named the NFL's Pepsi Zero Sugar Rookie for his Week 6 performance in the victory at Green Bay. In the game, Hall (6-1, 220) eclipsed the century mark on the ground for the first time in his NFL career with 116 yards and touchdown.
"We still have Michael," Saleh said, adding about Hall that he's "not going to count him out. I'm staying optimistic. He's a heck of a football player and when you lose them it's not good. But I have faith in all the guys. There are still a lot of guys on our team I feel good about."
Wilson, who completed 16-of-26 passes for 121 yards without a turnover, and the team has not committed a turnover (interception or fumble) in three-straight games. Wilson spread the ball around to nine receivers, with the longest completion going to Carter on a screen pass for 37 yards. Still, the second-year QB realized he was without three of his key players on offense with more than half the game still to be played.
"I said something in the huddle like take advantage of the opportunity, step up, it's time to grow a pair, I think it's what I said," Wilson said. "I think the guys got the message. It was their opportunity for playing time and it was really cool they stepped up."
Speaking specifically about Hall, Wilson added: "It's tough when you see anyone go down, any of them. When I didn't see them in the huddle I wanted to know where they were at. It's tough. Those guys are great players. Unfortunately, it's part of the NFL, next-man-up mentality. I said a little something in the huddle, I didn't need to, to the guys that this is your opportunity to earn more money, for more playing time. I think the guys got the message."
While Hall's teammates were certainly aware he missed most of the game with an injury, defensive lineman Vinny Curry was stunned after the game.
"What!" Curry said. "Oh my God, that's my locker mate. Damn. Damn. I'm just learning about this."
With the win, the Jets surpassed their victory total from the entire 2021 season. But the cost is still to be calculated.
Vera-Tucker, solid throughout the season so far, has been the Jets' Swiss Army Knife on the offensive line, playing multiple positions and playing all of them well. AVT was replaced at right tackle by Cedric Ogbuehi, a veteran who has played in 60 games for four teams in his eight-year NFL career.
"You got a guy like 32 [Carter], my locker room fanatic," S Will Parks said. "He's always making sure people are together. Always doing the right thing to make sure he's prepared for a moment like this. But we need to speak about the O-line, we need to. Three Pepsi Rookie of the Weeks on offense. Everybody has the same confidence. I'm saying man, this is not the same Jets."
An hour after the game ended, Hall posted on Twitter: "Resilient! Through all the trials and tribulations. JETS WIN!!!!!!!"