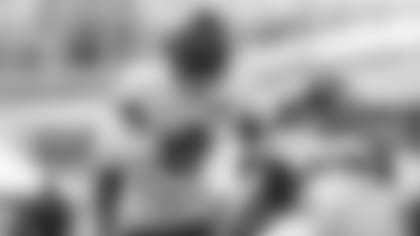 Elijah Moore didn't just flash during the Jets joint practice with the Atlanta Falcons on Friday. He sizzled.
Moore authored a perfect inside-out move on a Falcons defender, caught a missile from quarterback Joe Flacco and cruised in a dazzling 58-yard catch-and-run play.
"He's a professional," head coach Robert Saleh told reporters afterward of Moore. "He approaches every single day as a professional, studies like a professional. He has a great mindset. Elijah hasn't even sniffed the surface, let alone scratched it."
That is high praise from a coach who is often careful with his words, whether positive or negative, and clearly, Saleh is liking what he has been seeing from Moore.
"He can be as good as he wants to be," Saleh said. "Our offensive scheme puts players in position to be successful. For a receiver, it's the moment of truth at the catch point, to take it and make something explosive happen. It's about what you do with the ball in your hands."
The diminutive (5-10) and speedy (4.35 seconds in the 40) Moore last season gave the Green & White a tantalizing taste of what he is and of what he could evolve into. Though his rookie season (out of Mississippi) was cut short by injury, in 11 games Moore caught 43 passes (in 77 targets) for 538 yards (12.5 yards a catch) and 5 TDs. He also ran the ball 5 times for 54 yards and a TD.
"My goal is to be consistent and do it again tomorrow," Moore said, referring to Saturday's joint practice with the Falcons at the Atlantic Health Jets Training Center ahead of Monday night's preseason game against Atlanta at MetLife Stadium. "I'm understanding the plays, understanding my assignments and everyday I feel more confident."
Moore is among the Jets cadre of potentially game-breaking wide receivers. The "elder" statesmen are Corey Davis (back from core surgery that cut short his 2021 season) and Braxton Berrios (re-signed by the Jets). Moore loosely qualifies as a veteran compared to first-round draft pick Garrett Wilson. Denzel Mims and Jeff Smith remain in the mix, along with undrafted free agent Calvin Jackson, Jr. And that list does not even include the two tight ends signed in free agency (C.J. Uzomah and Tyler Conklin), plus Jeremy Ruckert, drafted out of Ohio State.
On Friday, Moore was collaborating with Flacco while Zach Wilson rehabs from his right-knee injury sustained last week at Philadelphia. Asked about what it's like catching passes from Flacco and if it's an adjustment, Moore was his typically reserved self in answering.
"Nah, last year I played with four different quarterbacks," he said, referring to Wilson, Flacco, Mike White and Josh Johnson. "I'll do whatever, whatever is coming my way."
When he was asked if a veteran like Flacco can take a bit off his fastball, Moore said: "Maybe because he's a veteran, he probably understands heat on the ball. But I'm out there moving, I don't pay too much attention."
Flacco, who's been around the block having won a Super Bowl with Baltimore, with stints in Denver, Philadelphia and again with the Jets, said that Moore reminds him of the five-time Pro Bowl receiver Steve Smith, who played three seasons with the Ravens.
"In some ways if he [Moore] reminds me of someone, it's Steve Smith, how explosive he was," Flacco said. "Steve didn't necessarily run routes, but he was always in the right spot. I think Elijah has some of that in him, he can feel when he's open though he might not get the same depth and may run the same route several times differently every time. When I played with Steve, he was always in the right spot. Elijah is there 90 percent of the time, with that last bit getting the feel for being in the right spot. With a guy like that, it's going to be a little different than everyone else. You have to allow him to use those superpowers."
Flacco added: "His ability to stop and start is really, really, really, rare. I don't know how many guys can stop like that. We're going to continue to put him in position where he does things well and clean up other areas. Come gameday, there's nothing that is too big for him. He's able to compete at the highest level."
See the Green & White on the practice field with the Atlanta Falcons.