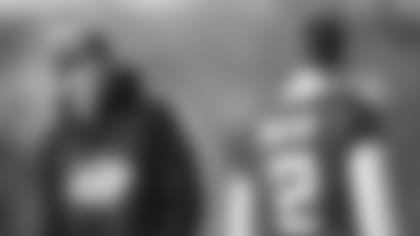 With only a few days left in the Jets' 2021 NFL regular season, it seems natural to ask head coach Robert Saleh about the coming offseason -- the draft, free agents, constructing a roster for his second season in charge. It seems natural, but on Wednesday, Saleh would have none of it when asked about what's to come over the next few months.
"I'm just not going to go there right now," Saleh said.
Instead, Saleh focused on the here and now: The impressive development of rookie QB Zach Wilson; the invaluable contributions from Braxton Berrios; the class of Team MVP C.J. Mosley; the growth of offensive coordinator Mike LaFleur; and the youthful promise of the team's corps of cornerbacks.
Though, when it comes to the organization's quest for consistent, long-term success the focus -- for better or worse -- is razor sharp on the play of the quarterback. And after a rocky start to his NFL career, a knee injury, and a strong return, Wilson has been impressive. For four straight games, Wilson has not thrown an interception over 136 pass attempts. That's a sea change from earlier this season.
"I felt like his decision-making the first half of the year had been sound," Saleh said of Wilson. "He had been putting the ball in the direction where it needed to go. Now what you're seeing is that his timing is coming together and it's really sped up. He's done a really good job with accuracy over the last few weeks. His pinpoint passing has been fantastic, really coming along. The confidence level, the decision-making has always been there. But the timing, the eye placement, the tempo getting the ball in a spot where only his receiver can catch it has been very, very good. That's a big reason the turnovers have been cut down."
Saleh turned even more effusive, sounding like a father whose child just gained admission to an Ivy League university.
"The biggest thing is his tempo and footwork," Saleh said. "When he came back [after missing four games with a PCL sprain], his tempo, his eyes, don't overanalyze, keep it simple. He's had great tempo and has his eyes have been where they're supposed to be. His tempo and footwork have been so consistent and his pocket presence, which he's elevated.
"He's able to exit the pocket and it's like he's feeling the pocket a lot more and keeping his eyes downfield, keeping his eyes focused where they need to. Tying his feet to everything, read with your feet, read the coverage with your feet, your progression with your feet. So getting his footwork tied to everything has been his biggest jump. It's why the accuracy has come back with his feet firmly on the ground. And when his eyes are where they need to be he can use his arm talent, which is what he was known for coming out of BYU and I think everyone has been getting a glimpse of that. Some of the throws he made on Sunday [against Tampa Bay], those were high-difficulty throws. It's been fun to watch him grow."
 Several quick hits from the coach:
On Berrios: "He's very, very smart. He can play every position and that trust and reliability aspect of his game is there. What he's really carved out, because he's so smart, is that usually if you've got a guy doing all the little gadget stuff, they usually struggle to run routes. That's a lot of information. He's been able to do it all."
On who "loves ball": "We [Saleh and general manager Joe Douglas] are always talking personnel and it always comes back seeing things the same -- guys who ball always maximize who they are as individuals. And there's a difference between guys who love ball and guys who love what ball brings them. And there's a huge difference. It's amazing, the guys who love ball find ways to maximize every fiber of their bodies."
On OC LaFleur: "He's grown. He is still not even scratching the surface taking what he's learned from [San Francisco head coach] Kyle [Shanahan] and his brother [Packers HC Matt LaFleur] and morphing them into this system."
On what's been accomplished this season: "The biggest thing is laying the foundation. It's been a rough stretch of time for this organization. From the outside, you can't sympathize with it and you can't appreciate it. I understand how deep this runs with the fanbase, the organization and everyone who's been a part of it. This is my first year in it, but now I understand it and my staff understands it."
On Mosley: "C.J. is awesome. He's an all-pro player and an all-pro human."
See the Top Practice Images from Wednesday of Bills Week at 1 Jets Drive