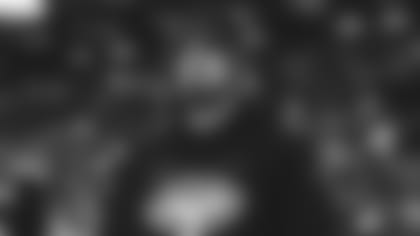 Of all his challenges as a rookie head coach in the NFL, the injuries, the virus, the proverbial roller coaster in a 17-game season that produced four victories, the Jets' Robert Saleh said that little compared to occupying a two-bedroom apartment with his wife and seven children -- and remaining sane.
"I kind of think it's a blessing," Saleh said this week on "The Michael Kay Show" on ESPN radio. "It's been tough, nine of us in a two-bedroom apartment. All my kids, seven on two beds. It's kind of the way I grew up. They're calling [RT Morgan] Moses' kids, they're calling [defensive assistant Ricky] Manning's kids and they're all playing in the courtyard, owning the place. We're moving into a new house with no neighbors around and I think they're going to be bored.
"Thing is, these guys will never forget this year. I think they're going to look back at it as the greatest year of their lives. They're a tight-knit group, and in a way we've been blessed that we've been forced to be so close. Sometimes I think we lose that as families."
As the hosts of the radio show commented after completing their interview of Saleh, he's a dyed-in-the-wool football coach, but he has come across -- win or lose -- as a quality human being who eschews coachspeak as he has adjusted to the demands of leading 53 men. And he's not adverse to admitting that he has things to learn.
"The administrative aspect is an SOB, your day gets broken up so often you can't get a chunk of time for film and sit there five, six hours," he said. "Your day gets fragmented a lot. It's a tremendous learning experience with regard to balancing your schedule. I look forward to attacking this offseason, getting a block of time to watch tape and help this team win games.
"You get used to your role and get used to the weekly surprises, the weekly obligations with regards to administrative aspects became second nature with the more reps you do the better you get at it. I'm excited to get to the offseason, and with all respect to the media, to be able to set that aside and focus. It's exciting to me with all the things going on, free agency, the draft."
With the organization's commitment to building a sustainable foundation through the NFL draft, Saleh and general manager Joe Douglas (and their staffs) fully acknowledge that they are judged on wins and losses. That said, the Jets ended their 2021 season with promising performances from young players like QB Zach Wilson, WR Elijah Moore, LG Alijah Vera-Tucker and RB Michael Carter on offense; and CBs Michael Carter II, Brandin Echols and Jason Pinnock on defense. That's major minutes and snaps. Saleh has made no bones about it all being about recognizing opportunity and grabbing it by the throat and holding on.
"I'm never satisfied with the amount of wins," he said. "Only one team is going to be happy and that's the one that wins the Super Bowl. But it's an exciting direction we're going in. I'm not satisfied, I'm not happy, but we've been able to really focus on building a foundation. It's a really cool developmental aspect, and with the youth of our team what's exciting is that we've gotten better throughout the year. We want to play meaningful games in December, getting to the playoffs, winning championships. That's the ultimate goal for everybody."
In a win-now-or-be-gone sports culture, which has seen a half-dozen NFL head coaches dismissed since the end of the season, Saleh is determined to tune out the noise and play the long game.
"The way people see development is up to them," he said. "My job is to come in here and do the best I can working with Joe and bringing in the right guys, developing the right schemes, putting guys into position to be successful. In this age of social media and in an 'I want it now' world and generation, we need to understand how to develop players.
"We get so enamored of the anomalies in the league the [Chargers QB Justin] Herberts, the [Bengals WR Ja'Marr] Chases, the [49ers DE] Nick Bosas. Everyone glorifies that, and it's deserved, but that is what everyone is chasing. You get so enamored of chasing that anomaly that you lose focus on what wins in this league is developing the back end of your roster, the third-, fourth-, fifth-, sixth-round draft choice, the undrafted free agent. Those are the guys that take time. And those are the ones that win championships.
"Once in a while an impatient organization hits the jackpot and ends up with one of those anomalies. And everyone thinks it is the way to go. Look what Andy Reid has done with the Chiefs' roster. It took time. Arizona is in Year 3, in San Fran it took three years. Cincinnati went from 2-14 and 4-12 and is now going to the playoffs. The teams with longevity have developed their rosters. That's something I'm looking forward to doing. What we're trying to do is develop longevity here, a team this entire market can be proud of for years, rather than just in spurts."
Right after the Jets' season-ending loss at Buffalo this past Sunday, Saleh told reporters that the first task was competing within the AFC East, a place the Green & White was the only team to finish with a losing record and failed to win in six games in the 2021 season. And in a season in which the Jets defeated two division-winning clubs (Tennessee and Cincinnati), Saleh said that he's was most impressed with the Bills.
"Buffalo is probably the most complete team, quarterback, run game, passing, their defense is ridiculous," he said. "I feel like every week we were playing against a top-five defense. Buffalo, they're complete. They have a heck of a coaching staff. They're sound, explosive, a really, really talented group."
After shaking hands at midfield with Bills head coach Sean McDermott, Saleh said he kept it short and basically sweet.
"I just told him, give 'em hell [in the playoffs] and rep the division," Saleh said. He added: "The whole football community is a brotherhood."
See All of the Top Images from the Green & White's 2021 Season