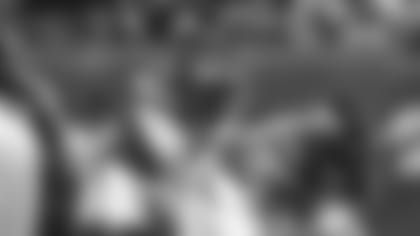 Jets head coach Robert Saleh popped into an early-morning video session with reporters on Thursday as the Jets prepared to take a break over the Labor Day holiday weekend, with only five practices on the schedule before they start the 2022 NFL season by hosting the Baltimore Ravens on Sept. 11.
Saleh has refrained, so far, from naming Joe Flacco as the starting quarterback against one of his former teams while Zach Wilson rehabs from surgery on his right knee.
"There's no timeline, if Zach is not ready I'll have a lot to say next week," Saleh said on Tuesday. "If not, Joe will be the starter."
While Wilson is working his way back since sustaining the knee injury, which required surgery, Saleh said that his second-year quarterback continues to be engaged and dialed in. Wilson landed awkwardly on a scramble during the opening series of the first preseason game, at Philadelphia.
"Before the injury he was way ahead of where he was a year ago," Saleh said on Thursday. "I know the first preseason game people put a lot of stock into that series, that first game. But it isn't even close to showing what he's done in OTAs and camp, and the way he communicates. I'm excited about him getting back to show how far he's come, I'm excited and excited about his future.
"Anytime you miss reps, whether you're a quarterback or a two-tech, it doesn't matter. Playing football is the best way to get better. Zach is doing all in his power to stay as close to where needs to be, and I expect him to catch up quick. He's in every meeting and I expect him to pick up where he left off. I'm not concerned about Zach."
Saleh said any decision on Wilson's return to the field would be left up to team doctors.
"He'll be fine with one week of practice," Saleh said.
While Saleh minimized his concern about Wilson's ability to seamlessly return to action, he did express concern about the work-in-progress offensive line, which put the five starters (Duane Brown, Laken Tomlinson, Connor McGovern, Alijah Vera-Tucker and George Fant) on the field together for the first time in last Sunday's preseason finale, against the Giants. Each of the five linemen played 21 snaps.
"The good news, with that last preseason game, the group was together in game action," Saleh said. "The bad news, it didn't go the way we were hoping for. Not terrible, but not what we want. We have time to get reps, in having team comps not just against cards, against one another. We've got to get going and we have an opportunity to catch up quick. There's five practices left, so. ...
On Wednesday, general manager Joe Douglas discussed the progress of another important injured player, offensive lineman Mekhi Becton.
"Mekhi, he had a very successful procedure with Dr. [Neal] ElAttrache out in L.A." he said. "Obviously, he's going to miss the season. We're going to miss him, but the docs feel good about the procedure, feel good about his long-term ability to play football, which was great news, so right now he's currently still out in L.A. training with the doctor's rehab staff. He'll come back here eventually to be with the team. We're going to be excited to get him back."