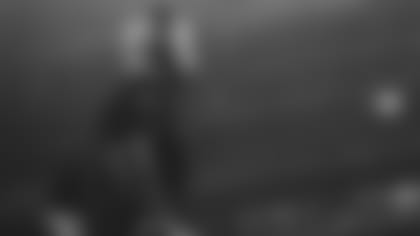 A somber Jets head coach Robert Saleh opened his Friday morning news conference with words of condolences and solace for the family of Xavier McDaniel, a Linden High School sophomore who died on Wednesday from an apparent head injury sustained in a game on Sept. 9.
"Before I get started, I just want to take a minute to honor the memory of Xavier McClain, a sophomore at Linden High School who passed away from injuries he sustained in a game a couple of weeks ago," Saleh said. "On behalf of the Jets organization, heartfelt condolences to his mother Lisa, his father Norman, his brother Andres and the entire Linden community.
"It's a sad day any time you lose a member of the entire football community ... heart goes out to him and his family."
According to NJ.com, McClain took a blow to the head as he returned the second-half kickoff in a game against Woodbridge. The game was stopped as McClain was attended to and taken from the field in an ambulance.
Linden Mayor Derek Armstead on Wednesday night said on social media that McClain had died from his injuries. Faculty and staff at the school confirmed the news on Thursday morning.
"Together we prayed for a miracle and hoped for a different outcome," Armstead wrote on his Facebook, Instagram and Twitter posts. "I trust that God knows better. He needed an angel and decided to call Xavier home to be with Him."
McClain played on offense and defense for Linden. In the game he had two carries for 18 yards and caught an 8-yard pass, while also making four tackles in the defensive backfield.
Linden won the game, 31-0.