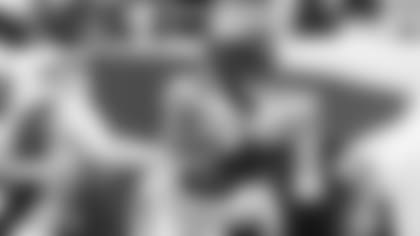 The Jets are the youngest team in the NFL, and although a handful of rookies have been learning on the job, their football IQ has been creeping up with each repetition, each practice, each minute on the field.
"It's exciting because I know though experience where this group is going to go and I know it is hard to see," said head coach Robert Saleh in an interview "Jets Gameday With Robert Saleh" that airs before games each week on CBS 2 NY TV at 11:30 a.m. "This is a really cool thing happening with these rookies. They're getting all this playing time and they're only going to get faster, they're only going to get stronger, they're only going to get better as time goes on. The faster this happens and with all this experience the more explosive it is going to become.
"They're out there playing, getting reps, [CB] Michael Carter, [LB]Jamien Sherwood, [CB] Brandin Echols are doing a heck of a job. On offense, the quarterback [Zach Wilson] is growing, [LG] Alijah Vera-Tucker had his best week and [RB] Michael Carter is doing a nice job carrying the rock, [WR] Elijah Moore is getting close to breaking out. The group is only going to get better."
According to TruMedia, the Jets have had 1,739 snaps from rookies through five games, the most in the NFL. The Steelers are second, 379 snaps behind the Jets. The Jets are second in the league in offensive snaps by rookies and fourth in defensive snaps by rookies.
The coach is the first to admit that through five games and the team's 1-4 start, there have been hiccups among the Jets young players, but this season and beyond is a marathon, not a sprint.
"There are a lot of things we talk about that's different between the young guy and the veterans," Saleh said. "I call them scars, scars on arms all these experienced guys have. They know what to expect start to finish. The young guys all got a clean slate, no scars. They are such quick learners, so explosive. And you can see that by the start of the second quarter they are getting more comfortable. It's a lot to do with excitement, it's all new once and once they're in the flow of things they start to catch up and then get rolling. They are going to get faster, they are going to get better, and it's exciting to think about. We're heading in the right direction."
It's obvious that the lion's share of attention has been on Wilson, the rookie quarterback from BYU, who will be the focus Part 2 of the Saleh interview. For now, the payoff from general manager Joe Douglas' second draft has been evident on the field in the play of rookies on offense, defense and special teams.
"It's not just about the quarterback," Saleh said. "It's understanding that when you look at great organizations, in this league they're building around the quarterback and allowing the organization to grow with the quarterback. It takes a commitment, it takes more than just going to get reps. Joe has done a phenomenal job. He got a receiving corps, brought in some offensive lineman, and it's going to continue to grow. We know the record is not where we want it to be, but we're going in the right direction."
On the offensive line, Vera-Tucker has played all 309 snaps and has shown the drive and athleticism that was expected from the first-round pick out of USC. He has started all five games and is the second-highest-rated rookie guard in the NFL and ninth-rated guard overall. His 92.4 grade from Pro Football Focus in Week 5 against the Falcons was the best grade among guards in the league. He has not allowed a pressure the past two weeks. Moore (taken in Round 2), a highly touted slot and wide receiver, was a revelation in OTAs and training camp, but has yet to get on track in five games. At running back, Michael Carter (Rnd. 4) has carried the ball 47 times for 165 yards and 2 TDs.
On AVT, Saleh said: "He's getting better and better as he gets more comfortable. I was in Joe's office recently and told him thank goodness he was so aggressive in going to get him [moving up from No. 23 to No. 14]. He's going to be special. He's got the right makeup, a nastiness to him, athleticism. As he gets the reps, gets the time he's only going to get better. Knock on wood, Joe did a great job."
On defense, MCII (Rnd. 5) and Echols (Rnd. 6), plus second-year man Bryce Hall (Rnd. 5 in 2020) have offered a peek into a fast and aggressive group oozing skill and confidence. Like Hall, S Ashtyn Davis (taken 68th overall in 2020) and CB Javelin Guidry (signed as an undrafted free agent in 2020) are also part of the Jets' youth movement.
"Michael Carter II, when you look at him he's a built young man, a stocky kid," Saleh said. "He's got muscle behind him, he's fearless and packs a punch. He's strong, confident and a great communicator. He's another young man who's going to get better as time goes by. He had a tough challenge last week against [Atlanta's Kyle] Pitts, but he was able to get some licks in there. Hall is getting closer to having a dynamic game. He had his hands on two balls in London.
"These young guys are going to gain a step. For Bryce, he has gained a half-step, and those two legitimate chances he was just half a step away. That is going to come. I'm excited about the direction he's going."
Saleh added: "As I've said, the difference between Player A and Player B is reps and opportunities. Our young guys are getting a chance to show who they are and they just need the proper reps. And obviously, having the opportunity to showcase why they're capable of being an A player. The hard part is getting up to speed, discipline and getting the reps they need, and being able to do things over and over and over again so they can unlock all the athleticism they have in a short amount of time before giving them more. It's a challenge, but I'm confident of them doing it at a high level. Absolutely."