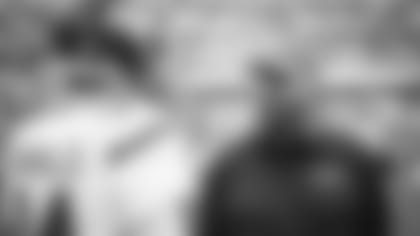 In his second professional season, quarterback Sam Darnold showed clear signs of growth, especially in the back end of the year. In year two, the 22-year-old QB had an increase in completions, total throwing yards, touchdowns, and a decrease in interceptions.
"We had some really good games early on where it was kind of up and down," said Coach Gase on Darnold's 2019 performance. "It felt like he was very consistent at the end. I thought he did a good job with honing in on specific things he wanted to work on and got better at those things. He also did a good job protecting the football and we cut the turnovers way down. I think we'll make a lot of strides in this offseason with specific things that we're going to put together. We'll be able to go back and watch the film."
In 13 games, the 6-3, 225-pound gunslinger completed 273 passes for 3,024 yards, 19 TDs and 13 INTs, and tacked on 62 rushing yards and 2 rushing TDs. After missing Weeks 2-5 due to a bout of mono, Darnold came out hot in his first game back when the Jets took on the Cowboys, completing 23 passes for 338 yards, 2 TDs and 1 INT. But his most notable long-term success of the season came in the later part of the year during Weeks 10-17.
With no pressure to learn a new system this offseason and an opportunity to build off late-season success, Coach Gase is confident Darnold will continue to take steps forward.
"Huge difference, huge," Coach Gase said on the difference it will make for Darnold to be in the same system this offseason. "It's a big deal when you're going into the spring and you're not learning a bunch of new things. You're trying to get better with more of your technique, fundamentals, the verbiage in the offense and all those types of things. You kind of know those by heart and that's where you can make a lot of strides when you're working on."
Next season will mark the first time in Darnold's young professional career — and the first time in three football seasons — that he will remain in the same offensive system two years in a row. And although there was a minor health setback this season, the USC product proved he can thrive in an offense when given time.
"Every year's a big year," Gase said. "It doesn't matter if it's your 1st, 2nd. 3rd, 10th, 12rh. I think that he's going to look at this as whatever this year was for him when he goes back and reviews it, and he's going to anticipate that he's going to be better than he was this year. Whether it's numbers, wins or however Sam looks at it. He's probably looking at wins, because he never even talks about stats. Everybody else is going to look at ratings and touchdown passes, interceptions and yards and all those things. I think he'll look at it as he should make a big jump."