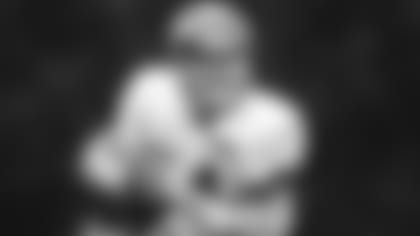 In the sometimes counterintuitive world of the NFL, "faster" can mean "slower."
Take the speed at which Jets QB Sam Darnold is processing the things he's seeing and the way he's moving around the pocket in the first week of training camp practices at the Atlantic Health Training Center.
"Yeah, I'm just feeling more comfortable," Darnold said after Wednesday's outdoor session. "Second year in the system, I feel more comfortable and everything when I call a play, I see it already so I'm worried about the defense, where at this time last year I might have been worried about 'OK, what way is the formation, what way is the play, where am I going?'
"It's a big difference from where I was at this point last year."
Adam Gase was quick to concur.
"I think everything is faster," he said. "To me, the thing that has been noticeable is the way he drops, how fast he gets back, how he steps up, how he's sliding in the pocket. Last year at this time, if we put the film on back-to-back, it would look completely different.
"That's the tough part about when you're a quarterback and last year was your third system in three years — that can slow you down. And the fact that this is his second year in the same system, I know he's got new guys but he's not thinking as much, it's more of reaction for him and then he's able to focus on the things he needs to focus on: 'Hey, my footwork, using this cadence, seeing the defense, knowing where to go the ball.' Just everything's happening faster for him and you can just tell how much more comfortable he is playing quarterback right now."
And one of the results of everything going faster is that the game is coming to Darnold slower. That's been a theme all offseason but it has really become noticeable now that camp has begun and particularly Wednesday. Among Darnold's connections:
Lasering a short touchdown pass on the move to first-year WR Jeff Smith in the back of the end zone in red zone drills.
Finding his young TEs, Chris Herndon and Trevon Wesco on back-to-back throws.
Last but not least, during team drills, hitting WR Breshad Perriman on a slant, after which Perriman did the rest, speeding past CB Arthur Maulet and up the gut for an 80-yard scoring play.
"I actually called Breshad right when I saw that we signed him, then I was able to meet him in person in Florida," Darnold said of the twosome's growing connection on and off the field. "He's a great dude, he's super explosive, very explosive athlete, gets in and out of cuts, big dude as well. So he's everything you want in a receiver and again we're just looking forward to having him this year."
Today's hookup came two days after the two conspired on a nearly 40-yard TD strike. It would be something if Sam and Breshad can develop the kind of relationship that has occurred every once in a while in Jets history. Here are the four QB-WR combinations that have produced the most 40-yards-plus receptions in a season:
Table inside Article

| Jets QB | Jets WR | Season | 40+Recs | 40+TDs |
| --- | --- | --- | --- | --- |
| Joe Namath | Don Maynard | 1968 | 10 | 5 |
| Joe Namath | Don Maynard | 1967 | 9 | 2 |
| Ken O'Brien | Wesley Walker | 1986 | 8 | 6 |
| Matt Robinson | Wesley Walker | 1978 | 7 | 4 |
But let's not speed ahead of ourselves while we're still in the first week of this year's very different training camp. Suffice to say that Darnold, fast, slow or in between, is happy to be back on the practice field and getting to know all his wide receivers, all the way from last year's top receiver in Jamison Crowder to recently signed veteran Chris Hogan to working the playbook with injured rookie Denzel Mims.
"Yeah, it's been a few days of practice and every day we're just looking to get better," Darnold said. "We've been building off every single day. And it's been really good so far, just really good to get things going again. It feels good to be back."
See the Best Photos from the Fifth Practice at Training Camp