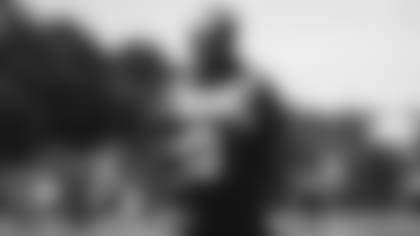 Not many coaches can say they've been in the NFL for 29 years, but one who can is new Jets defensive coordinator Gregg Williams. So, what's his secret for longevity?
"The reason I keep getting hired is culture," Williams said. "Culture beats strategy any day of the week. It's about how you find ways yourself to be tougher, how you find ways to play harder, play smarter for longer than any opponent you go against. All the scheme is, is a way to surround the ball, surround the formation. Then it's find ball, see ball, get ball. But it comes from an attitude. It comes from a personal understanding of what it takes to play this game at this level at the highest level."
The 60-year-old's trademark is his brash demeanor to go along with his booming voice. Everywhere he's coached, his players rave about his coaching style, which comes off as intense and often critical, which sometimes leads to some memorable one-liners. But Williams describes his coaching style as extremely encouraging.
"When you guys see the voice, the loudness and stuff, that's premeditated," he said. "How do we, Monday through Friday, make sure that these guys can block out the white noise on Sunday? For whatever reason, when you have slow-motion practices, you're shocked on a fast-paced Sunday. So, I try to put as much external pressure on them as we can from distractions, voice, fake anger, that type of stuff to try and get ready to play on Sundays."
As for his scheme, a hot-button topic when Williams was hired in January was whether or not the Jets would stick with their 3-4 front. Everywhere the Green & White's new coordinator has coached, he's run both 4-3 and 3-4 fronts. Last season when Williams was with the Browns, they led the league with 737 snaps out of the 3-4.
"I have 42 packages of defense," he said. "What does that mean? Forty-two ways to get these 11 guys out there. I'm not going to do all of those here. Right now, we only have 14 or 15 of them, how to package guys to get out there, who's going out there. After going through the OTAs and the minicamp, I have a better feel for these guys. I thought I knew them, now I think I have a good feel for them and you really don't have it until you get into the big-time games. Not the preseason, it takes a few seasonal games to see how you respond under pressure.
"We're going to package as many as we can to get guys ready to go. People talk about starters. Everybody who makes the team is a starter in the National Football League."
Williams, a self-proclaimed "competitionaholic," believes his unit is filled with smart men and is striving to get the most out of the young group by using a point system at practice.
"I want to be the best in the world that's ever played this game," he said. "Why can't you just be the best you can be today? Why can't we just be the best we can be today? Why can't we just be the best that day we're playing? Then after the year, we'll get all the measurables later. It's about improvement. This has been a really good group of guys that have had a very good attitude and want-to to wanting to be coached from hard to soft to everything. I'm looking forward to it."