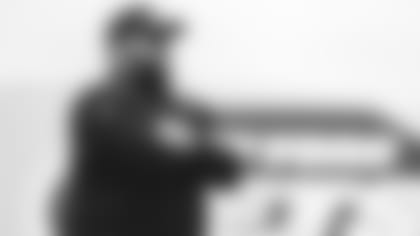 OTAs, training camp, the preseason and cutdown day are in the rearview mirror. A little more than a week remains before the start of the Jets' 2022 regular season when they host the Baltimore Ravens on Sept. 11.
And for general manager Joe Douglas, all arrows are pointing up in the building of a winning culture under the savvy and spirited direction of head coach Robert Saleh and his staff.
"It starts at the top and when you have a head coach that brings the energy, the juice, the genuine love of game that Coach Saleh brings, and with his staff of high-energy teachers it goes from there," Douglas told reporters on Wednesday. "Bringing in the right type of people, the job the personnel staff has done bringing in the right type of competitor here. After that, you try to get as many good people in the building as you can, and good things are going to start to happen.
"I love Robert's consistency, his consistent energy every day and how well he communicates and how well we've been able to bounce ideas off each other. We have different perspectives, but I feel that both of us are able to set egos aside to do what's best for the team. Just watching him, that consistent energy and communication have been a joy to work with."
One day after cutting the roster from 80 to 53, Douglas said that there were many spirited conversations among the team's coaches and the personnel staff. Several of the players cut by the Jets were on Wednesday picked up by other teams, including S Jason Pinnock (Giants), T Chuma Edoga (Atlanta) and CB Javelin Guidry (Arizona). To date, Douglas said that the Jets have not placed a waiver claim on any available player.
"I think it's a cool thing that Robert always says that when we're talking to teams, when we're showing clips, it's the mentality and mindset of what it's supposed to look like," Douglas said. "Teammates and coaches see it on tape. Thirty-one other teams see it, too. When you do things the right way -- take care of your body, listen to staff -- it's going to show, and other teams are going to take notice. It's a credit to the staff and a credit to the players."
During the press conference, Douglas said that he had taken calls from other teams about WR Denzel Mims after Mims' agent requested a trade last week. The GM added that although he would always pick up the phone, any proposed deal would have to work for the Jets.
"I got a heads up [from his agent] that was coming," he said. "I fielded some calls, but ultimately nothing materialized, especially anything I considered to be the right value for someone with Denzel's talent.
"I wouldn't say he wants to be somewhere else. He wants to play. He wants to start. Denzel is very confident and feels he should be a starter. I want a team full of guys who feel they should be No. 1 guy. He loves the Jets, he's a great person, a high-level competitor who's not wanting to be somewhere else. He's just wanting to play more. He does want to play, but at the same time we have to do what's best for the New York Jets. Against the Giants [7 catches, 102 yards, 1 TD], we saw what he can do when he's out on the field, and you have to do what's right for the player and the team. We're keeping Denzel, we have a great room, a cool room, and Denzel is a big part of that." He added: "He was always going to be part of our 53."
The Jets started the week, before cutdown day, with six safeties and now have four: Lamarcus Joyner, Jordan Whitehead, Ashtyn Davis and the undrafted free agent Tony Adams. Pinnock was cut along with Will Parks (who subsequently was signed to the practice squad). Douglas said he believes the Jets had six bona fide NFL safeties.
"Our roster is heavy at a lot of spots -- defensive end, wide receiver, cornerback," he said. "It was one of the more excruciating cutdowns. We had to get to four, there's a lot that went into the decision but outside of the two starters, special teams were a large component of that in terms of the two backups. I wanted them all back here. We're excited to have Parks back. It would have been great to get Jason. I'm happy for him to have a great opportunity crosstown."