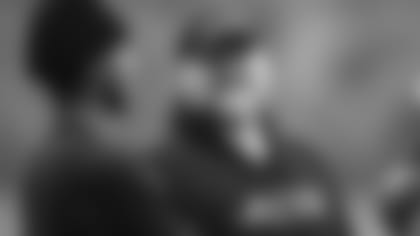 This is one in a series of articles that will also appear in the New York Jets 2023 Yearbook, which will be published later this summer.
The surreal hasn't stopped Jets GM Joe Douglas.
"It's been a surreal three and a half, four months," he said in January. "Coming out of the gate the way we did, 6-3, overcoming some of the obstacles early in training camp and the injuries, having a huge win at home against Buffalo — that was surreal in a positive way. Now on the flip side with how we finished the season with the six-game losing streak — that's surreal in the negative way."
But it was all positive vibes for Douglas and the Jets throughout the offseason. Two days prior to the NFL Draft, he made "a historic trade for this franchise" by acquiring future Hall of Famer Aaron Rodgers from Green Bay. To complete the trade, the Jets moved back two slots in the first round (13th to 15th) and also acquired a fifth-round pick (170th), while the Packers received second-round (42nd) and sixth-round (207th) picks plus a conditional second-round selection in 2024 that can become a first-rounder if Rodgers plays 65% of the plays this season.
"Obviously, we're comfortable with how this deal shaped," Douglas said. "I don't think anyone ever walks away from a negotiation where you feel like you won everything in terms of what's gone back and forth. But ultimately, our goal from the beginning was to add Aaron to the team, so we were able to get that."
Two pillars of Douglas' 2022 draft class were recognized at this year's NFL Honors as CB Sauce Gardner and WR Garrett Wilson were named Defensive Rookie of the Year and Offensive Rookie of the Year, respectively, by The Associated Press. It marked only the third time since the rookie awards kicked off in 1967 that one team grabbed both honors.
Besides Gardner and Wilson, Douglas has built a roster that features elite players that he drafted in OL Alijah Vera-Tucker and RB Breece Hall, signed in CB D.J. Reed, and a pair in DT Quinnen Williams and LB C.J. Mosley that he didn't discard just because of regime change. The Jets took a prudent approach in free agency this year as Douglas re-signed young LB Quincy Williams, continued to tinker with the offensive line, and shifted some pieces around in the wide receiver room, inking Allen Lazard (6-5, 227) and Mecole Hardman Jr. (sub 4.4 speed).
"I love Joe D," head coach Robert Saleh said, "because one of the hardest things to do in this league is to operate in humility and because, you know, this profession, especially when there's success, there's this disease of the me factor that jumps in. You can go off the deep end with a mindset of wanting credit and all that stuff.
"Joe just does a great job of orchestrating the way we all communicate," Saleh said. "You look at all the guys that he has on his staff, we're all in unison. We disagree a lot, don't get me wrong. But I think those open and honest discussions are where we can disagree without getting ticked at one another. I think it's healthy and I think it's why we've been able to have so much success over the last two years with bringing in the right guys."