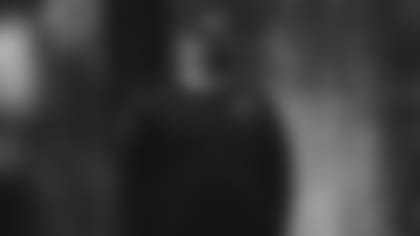 With his team reaching the season's midway point without a victory for only the second time in franchise history, Jets GM Joe Douglas was not passing the buck for the Jets' 0-8 record.
"My message for the fans is we're all frustrated with where we are right now, but everyone in this building has to own it," he said. "This record belongs to all of us and it's incumbent on each of us to figure out how we can improve it and I certainly take my fair share of the responsibility."
Douglas, in his second season as the team's GM, repeatedly pointed at himself for the Green & White's lack of success. After reshuffling the offensive line in the offseason and changing the landscape at the skill positions around Sam Darnold, the Jets rank last in the NFL in scoring (11.8 Pts/G) and passing (155.9 Yds/G). Darnold has started six games, connecting on 58.6 percent of his passes with 3 TDs and 6 INTs.
"Sam is an ultra-talented quarterback and I really can't say enough about his grit and his toughness," Douglas said. "Ultimately I have to do a better job of putting talent around Sam and we have to develop some kind of continuity within the offense moving forward. The silver lining is there are eight games left and we have guys coming back healthy. And so hopefully we can do that over the last eight weeks of the season."
Douglas was open during his midseason session with reporters, and acknowledged that the team could have handled free agency better with Robby Anderson. After playing his first four seasons with the Green & White, Anderson signed with the Carolina Panthers in the offseason and has registered 51 catches for 688 yards in 8 games.
"We thought Robby's value was going to be even greater than what he signed for in Carolina, so that's on me ultimately and that's on us to get a better handle on every player's market value," Douglas said of the deal that was reportedly reached for two years, $20 million. "Honestly, we'd all love to see Robby here doing what he's doing, but I tip my hat to the success he's having. But we don't want to be in the business of losing good players."
Over the past few weeks, the Jets released RB Le'Veon Bell and Douglas acquired future draft picks in exchange for ILB Avery Williamson (Pittsburgh), NT Steve McLendon (Tampa Bay) and DL Jordan Willis (San Francisco). Douglas thanked each player for their service and discussed the Jets' standing for the 2021 and 2022 NFL Drafts.
"Over the last few months, we've been able to improve our draft capital," he said. "As we sit here now, we have 9 picks this upcoming draft and we have 9 picks in the next draft. Of those picks, (nine) over the next two years are going to be in the top three rounds, so that gives us a lot of flexibility and a lot of opportunity to really improve the talent on this roster. But ultimately again for us to get to where we need to be, we have to continue to develop and invest in our players moving forward."
And while the Jets will have financial flexibility next spring, Douglas was clear about his philosophy regarding the draft and free agency.
"I think when you look at successful organizations no matter what the sport, you don't see a lot of teams that build long-term success by buying their way out," he said. "You see the teams, the organizations that have long-term success, they draft well and they develop their players. I think that's the model moving forward, our vision moving forward. And when we have the opportunity to strike in free agency, having that flexibility. But none of this is going to work if we don't draft and develop these guys, especially with the assets we have last year and this year."
Douglas said that the Jets will continue to look to improve along the line of scrimmage while adding explosive playmakers, passer rushers and defenders that can cover well. He reiterated that he has to provide the coaching staff with more talented pieces.
"This is not all on Adam [Gase]," he said of the second-year head coach who has guided the club to a 7-17 mark in 2019-20. "I have to do a better job of surrounding him with better players and better weapons. We're in this together. I'm going through and thinking everything I can try to do to try to help Adam. The goal is to get this fixed together."
After the NFL trade deadline came and went, Douglas said the club was never shopping neither DT Quinnen Williams nor TE Chris Herndon. He took multiple questions about Darnold and stated the third-year signal-caller was the Jets' "best quarterback and our quarterback of the future." The Jets have a hill to climb and Douglas remains optimistic that they'll eventually if they stay the course.
"I came in with my eyes wide open," he said. "I knew the obstacles here, but I also knew there were a lot of good people here and I still feel that way. I'm excited about the draft class we brought in, I'm excited about the draft capital for the next few years and I'm excited about bringing in the right type of people while also putting together comprehensive player development plans for each and every player to make sure that we're absolutely doing the best."