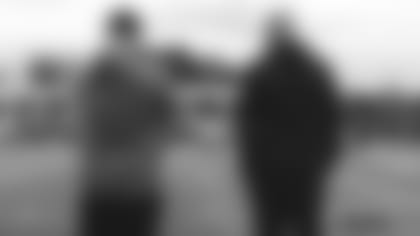 The Jets have been in the spotlight since the hunt for their quarterback began in the offseason. After acquiring four-time NFL MVP Aaron Rodgers and going through training camp captured by HBO's "Hard Knocks," the buzz around the team is palpable.
"We're not running or hiding from any expectations that are out there," said Joe Douglas, who is entering his fifth season as Jets general manager. "I think when the dust settles, you want to be in the conversation as one of those teams that can compete for a Super Bowl. You get a ticket into the dance and anything can happen. I think with the training camp we've had, the job that the players have done, the job that the coaching staff has done, we're ready. But we're really not looking any further than the Buffalo Bills. Three-time defending AFC East champions are coming into MetLife and we know what kind of task that is to compete against them."
Douglas is no stranger to championships. He has three Super Bowl rings – two with the Ravens and one, most recently, with the Eagles. This Jets team has decorated young talent like Garrett Wilson and Sauce Gardner and veteran talent likesuch as Rodgers and C.J. Mosley. More importantly, to Douglas, the Jets have the right character.
"I think the common denominator between those Super Bowl teams in Baltimore and Philly was that it started in the locker room," he said. "It started with great leadership and it was a great combination of personalities. Those were player-driven locker rooms with just fantastic people and leaders. You feel that chemistry when you walk out there and come into the building every day. There's really good chemistry and I know you guys have heard me say the most important room is the locker room. Feel like this locker room is in a good place."
Despite the excitement around the team, Douglas quickly pointed out that "excitement doesn't win games" and "it's preparation, execution and discipline that wins games."
The Jets will need all three of those as they prepare for the three-time defending AFC East Cchampion Buffalo Bills in Week 1 on Monday Night Football. The Green & White has a 1-5 record against the Bills during their reign inof the division. The one victory was last season at MetLife Stadium.
"We've got a lot to prove," Douglas said. "We're in a good place moving forward. I think one of the first checkpoints is getting through training camp and having a productive training camp and staying healthy. We've been able to do that. Then the next step is going out there and proving it on Sundays, winning games and winning division games. So we're jumping right into the fire first game of the year."
Douglas has constructed the 2023 Jets roster through every avenue, and he may not be done. Part of Rodgers' decision to take a financial haircut in training camp was to help Douglas acquire a player down the road, if one became available, that would help the Jets for a playoff push.
"The Super Bowl year in Philly we had an opportunity to acquire Jay Ajayi and bringing him in with LeGarrette [Blount], it really solidified the running back room," Douglas said. "We were a buzzsaw in the playoffs that year. You just have to be ready when the opportunity comes. You don't know who or when it's going to happen, but we have great flexibility moving forward if that opportunity does present itself."