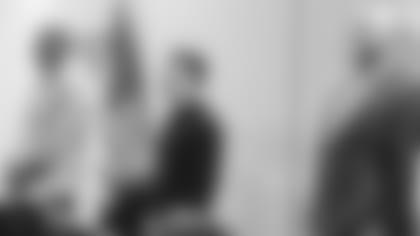 Jets general manager Joe Douglas started Day 2 of the NFL Draft the way he finished Day 1 -- with a trade.
After moving up nine spots from No. 35 to No. 26 in order to select Florida State Edge Jermaine Johnson late Thursday, Douglas traded with the cross-town Giants on Friday. In swapping the No. 38 and No. 36 picks and sending the Giants a fifth-round pick (No. 146) in the process, Douglas selected Iowa State RB Breece Hall.
"Especially at the top of the draft tonight, we were able to get what we thought was a top 20 playmaker in the draft and exciting weapon and someone who could really fit in our backfield and our scheme with what we have going," Douglas said.
A consensus first-team All-American and Big 12 Offensive Player of the Year in 2020 and 2021, Hall totaled 3,044 yards on the ground and 41 rush touchdowns. He also had 59 receptions, 482 yards and 5 TDs. He owns 11 school records and set an FBS record with a rushing touchdown in 24 consecutive games. Hall (5-11, 217) posted a 4.39 time in the 40-yard dash and 40-inch vertical jump in Indianapolis.
"The thing that jumps out with him is that he's a home run threat," Douglas said. "He can score from anywhere on the field. Excellent elusiveness, excellent balance through contact, and another guy who can be a weapon in the pass game. He has really natural ball skills and he's a tough tackle in open space. He's one of the more elusive backs we feel like we have one of the more elusive backfields with him, Mike (Carter), Tevin (Coleman) and Ty (Johnson)."
Head coach Robert Saleh said: "Part of the plan was to add some guys who when they touch it, guys can take it 80 (yards)."
After selecting Hall, some could claim the Green & White have selected the top cornerback in the draft in Ahmad "Sauce" Gardner, the top wideout in Garrett Wilson, the top edge rusher in Jermaine Johnson and top running back in Hall. Then after a long wait, the Jets took Ohio State TE Jeremy Ruckert in Round 3 (No. 101 overall).
"With Jeremy, he's a really tough-minded individual," Douglas said. "He's a great teammate, a guy that's willing to sacrifice for the team. He's a dynamic athlete and a dynamic weapon in the pass game. He was a guy (at OSU) who was willing to do the dirty work to help his teammates as a blocker. He really committed to helping his RBs at the point of attack and he gets after guys at the line of scrimmage but can also get open against safeties, create separation in the pass game. H has excellent ball skills, and he has got some run after catch too."
On Saturday, the Jets are scheduled to pick twice in Round 4 with the No. 111 and No. 117 selections.
"No reservations on losing those picks," Douglas said of his two trade-ups. "We wanted to be aggressive on the guys we really wanted at the top of the draft and as it sits right now, it's going to be a quick day tomorrow with those two picks early in the 4th."