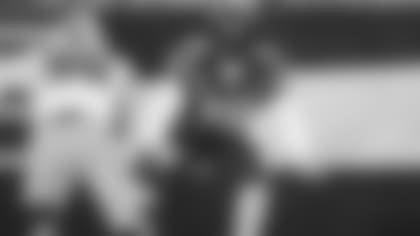 Jets' RT George Fant believes his 2020 season, his first with the team and his first entrenched as a starter, could be a launching pad for his career.
"I proved to myself and I feel like I proved to everybody else that I deserve to be in the league, deserve to be a starter in this league and that I could play at a high level consistently," he said. "There are more things I want to work on, but I feel like that's the No. 1 thing. I needed that for myself, the confidence in myself and hopefully put that confidence in the team as well."
Fant was the first player to agree to terms with the Jets in free agency in 2019, which was General Manager Joe Douglas' first full offseason with the Green & White. Fant spent the first four seasons of his career with the Seahawks as their swing tackle. He took 664 snaps as an undrafted rookie in 2016 (10 starts) which was the most playing time he received until he joined the Jets. He started 14 games this past season (12 at RT, 2 at LT) and took 829 snaps which was the second-most on the team behind C Connor McGovern.
"It means a lot," he said. "I proved a lot to myself. Coming in next year, this was the best thing for me. Being able to look back on this season and see what I accomplished this year, it's going to a huge confidence boost for me."
He added: "I think my ceiling is pretty high There's a lot I can do. There's a lot of things I really want to work on this offseason. I've already been talking to people getting ready to work on things."
While speaking to the media, Fant was itching to get back into the lab to work on his craft.
"I think I need to be more physical with my hands in the offseason," he said. "That's the No. 1 thing. Transitioning to the right side, I don't think a lot of people understand the transition. It has a lot to do with feet, hands and timing. Once I kind of got that down toward the end of the season, that's the No. 1 thing I want to work on. I want to get stronger and things like that as well."
Fant, who was voted team captain by his teammates in his first season with the Green & White, comes from a winning culture in Seattle. The Seahawks went 40-23-1 in his four seasons in the Pacific Northwest, and clinched three playoff berths. Their worst record was 9-7. Fant is excited to be a part of the Jets' turnaround because he's encouraged by the foundation Douglas has built.
"I like a lot about it," he said. "I tell people all the time that this place has a lot of tools, a lot of good young guys. They just need to be developed. There's a lot of potential here and I'm really excited for a lot of these young guys to hit this offseason, to put in the work and get ready for the next step next season."