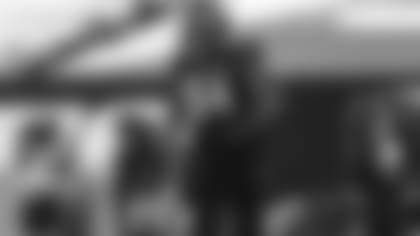 Jets DT Folorunso Fatukasi was the third-highest graded defender in Week 9 by Pro Football Focus, receiving a 91.7 grade behind only Saints DL Trey Hendrickson (92.7) and Titans DL Jeffery Simmons (94.2). Fatukasi had 7 tackles against the Patriots on Monday night and forced a fumble on fourth-and-1.
"All I know is it was there and the first thing that was on my mind was just go," he said of the fumble by RB James White. "It worked out in that situation. It was a good play, but it wasn't enough to help us as a team to get a win and that's why we play this game – to come out with a W."
Since the Jets traded Steve McLendon to the Bucs after the Week 6 game against the Dolphins, Fatukasi's playing time has increased and he played a season-high 55 snaps (68%) against the Patriots. General Manager Joe Douglas said one of the reasons he felt comfortable trading McLendon was Fatukasi's play. He has 23 tackles this season and has played 267 snaps (42.5%) on defense.
The Jets did a good job stopping the NFL's No. 4 rushing attack in the first half, holding New England to 50 yards on 15 carries, but the group finished with 159 yards and 3 TDs on 41 carries (3.8 avg). QB Cam Newton, who entered the game as the Pats' leading rusher, had 10 carries for 16 yards and found the end zone twice.
"I would definitely say it's not an effort thing," said Fatukasi of the defense's second-half performance. "Each guy comes in with the attitude of giving all they have and I'm confident when we watch the film, we'll see a lot of guys flying to the ball and going as hard as they can. Obviously, we didn't come out with the win, so that means we have to tie down in a certain area. That's where film study will come in to figure out what it is we have to do to tighten down the bolts a little bit more. That's going to come with extra focus, even more work and be more dialed in to make sure we're on our P's and Q's, so that way we can come out with a W."
After finishing No. 2 in the NFL against the run last year, the Green & White rank No. 19, allowing an average of 120.9 yds/g. While the Jets will enter their bye week before they prepare for their first of three games on the West Coast and take on the Los Angeles Chargers, Fatukasi's focus is doing everything he can to put the defense in the best position to win a game.
"The first thing that came to mind was let's get to our corrections and get back to work," Fatukasi said of the upcoming time off. "We can't stay in the pit, we can't sulk on ourselves. [The Patriots] came out here and they played hard. We need to go back into the lab and hit the drawing board to figure out what more we can do to get this thing turned around for ourselves."