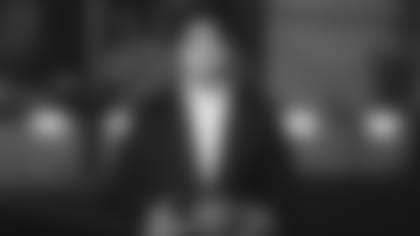 With those words, Jets chairman Woody Johnson welcomed offensive lineman Alijah Vera-Tucker to the Green & White last Thursday, on the first night of the 2021 NFL Draft.
Drafting the versatile, highest-rated offensive lineman in the draft seemed like a long-shot as the first round unfolded. After the Jets took QB Zach Wilson with the No. 2 overall pick, they were sitting with the No. 23 selection (via the Jamal Adams trade to Seattle), watching as USC's Vera-Tucker (AVT) was available at the start of the second ten.
"Where we were sitting at 23, we felt we had a unique opportunity to get a top-10 player in our minds as our board was stacked," said General Manager Joe Douglas said after the Green & White traded three picks (Nos. 23, 66 and 86) to Minnesota for Nos. 14 and 143. "To go up and get a guy like Alijah Vera-Tucker, a player that has started at tackle, has started at guard and has been highly productive at both. That versatility and that production is something we really value."
That "unique opportunity" has the potential to solidify the left side of the Jets' offensive line for years to come, putting AVT next to Mekhi Becton. AVT, who will turn 22 on June 17, has played left guard, left tackle and right tackle, and that versatility that appealed to the Jets.
"Being able to play alongside Mekhi, you have two physical players on the same side," AVT said during his visit to the Jets Atlantic Health Training Center in Florham Park, NJ. "At the same time, I'll play wherever they need me -- left guard, left tackle, right tackle -- wherever they need me I'll come in and play. At same time it really doesn't matter to me."
When the Pac-12 Conference announced in September that it would cancel its season amid the coronavirus pandemic, AVT opted out to prepare for the draft. But when the conference later reversed its decision, so did Vera-Tucker, rejoining his USC teammates.
"After they decided to play, I then had to make a decision whether to come back and compete," AVT said. "That was an easy decision. I wanted to play football."
That kind of dedication and desire to play was not lost on the Jets. As Head Coach Robert Saleh said in a phone call right after the draft, the Jets fell in love with Vera-Tucker the first day they started reviewing tape.
"These guys absolutely love ball," Saleh said, referring to the team's top three picks -- Wilson, Vera-Tucker and Elijah Moore. "They eat and sleep football. There's a passion they have and because of it they work extremely hard at making sure they protect that aspect of their lives. Their study habits, their work ethic ... they have it. Everybody loves ball, the character of these individuals is second to none."
The draft and its aftermath were a bit of a whirlwind for Vera-Tucker (6-4, 315). After taking the call from Douglas and Saleh, he was invited to travel from California to New Jersey to meet team officials and tour the training center.
"It's been a crazy experience," he said. "I got the phone call and they told me to fly me out the next day, so I hopped on the plane."
He added: "They told me they traded up for me. I'm blessed. For a team to put that much faith in me is amazing. Now I want to prove them right. Now I have to compete."
Douglas, an offensive lineman in high school and at the University of Richmond, has drafted an offensive lineman in the first round in two straight years, first Becton at No. 11 overall and now Vera-Tucker at No. 14. Strengthening the offensive line was clearly a focus in free agency and the draft, a project focused on protecting the Jets' rookie quarterback.
According to Pro Football Focus, AVT played 975 total snaps in pass protection and allowed only 5 sacks, 3 quarterback hits and 8 quarterback hurries. Vera-Tucker's career pass-blocking grade was 91.6, which is the second-highest among offensive linemen in the 2021 draft class.
The Jets did reach out to Vera-Tucker before the draft, so he knew there was interest.
"I liked their vibe," he said. "I liked what they're doing there, how they're trying to change things up. I got a good feeling from them. They traded up to get me, so I'm excited."
He added: "Not every year is going to be the greatest year. I'm going to come in, I know what the Jets fan base is like, I know they're pretty intense. I love that type of atmosphere. I'm going to come in and embrace it."