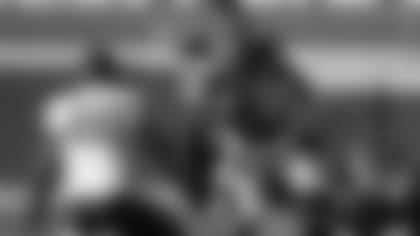 Sunday at Arrowhead Stadium, the Jets got their first experience playing against Patrick Mahomes. Football players would always say they want to compete against the best, but the Green & White probably wouldn't mind not seeing the Kansas City wunderkind QB for a few years after he fired five touchdown passes to four different receivers with an average distance of 27.2 yards each.
"Give them credit — they've got some playmakers all over the field," defensive lineman Henry Anderson said after the Chiefs' 35-9 victory. "I mean, they won the Super Bowl for a reason. They are a really good team, with a good quarterback, good skill players. It's a tough team to beat."
"I went against Mahomes," said CB Pierre Desir, the former Colt in 2018-19. "It's one of those things where you can't give him an opportunity, you've got to limit the opportunities. So whenever you can go three-and-out on defense, you have to do that. You have to play good on special teams, defense and offense just to eliminate those possessions. So really it's just taking possessions away from him to give yourself a chance to win."
The Jets defense actually seemed for a while to be walking that tightrope and executing that approach. With seven minutes left in the first half, the visitors forced KC's first punt, then moved to score their third field goal to cut the Chiefs' lead to 14-9.
And for the game, the Green & White's run defense did a decent job. The Chiefs were a top-10 rushing team going into the game, but they were held to 50 yards on 20 carries. Le'Veon Bell did not hurt his former team -- he was held to 7 yards on 6 carries. Mahomes, who's been known to make things happen with his feet when he needs to, was contained in the pocket for the most part and had no carries.
"I think we got good knockback, we set the force real well, and we contained the quarterback in the pocket so he didn't scramble," said DL John Franklin-Myers. "Those are the things we knew we had to do. We've got to just continue to get pressure on him in the pass game and make some plays."
And that's something that the Jets defense did not do. Mahomes completed 31 of 42 for 416 yards — the second-most passing yards by an opposing QB since 2008, behind only Aaron Rodgers' 442 in Green Bay's overtime win in 2018. He threw for 21 first downs and 6 third-down conversions, was not sacked and didn't commit a turnover.
Three pass-catchers had 96-plus yards and at least one score — WRs Tyreek Hill and Mecole Hardman and of course TE Travis Kelce, who topped all Chiefs receivers with 8 catches for 109 yards. That included a flip-pass screen from Mahomes for a 3-yard score in the final minute of the first half to make it 21-9.
"He's one of those guys who's shifty, a lot quicker than a lot of people think," Desir said of Kelce. "He's able to just get open, and that goes with Mahomes extending the plays. He may be covered and then he's able to break out. All their receivers do that."
So in the end it didn't matter that the Jets slowed the Chiefs' run and kept a loose net on Mahomes. The Green & White did some nice things in their first Mahomes-ian encounter but not nearly enough to keep things close in the final 30 minutes.
"In this business, you've got to keep moving, you've got to keep working," Desir said. "We're going to go in tomorrow, watch the film, see what we did wrong, correct those mistakes, and move on. You can't really dwell too much on the games. You've just got to move on, work and prepare for your next opponent."
Which happens to be a home Monday night test against a QB they haven't seen a lot over the years in Cam Newton, but a team they are quite familiar with -- the New England Patriots.
See Best Images from the Week 8 Game in Kansas City