The New York Jets are finalists in two categories of this year's sixth annual Cynopsis Sports Media Awards, which celebrate the best of the sports industry in front of and behind the cameras.
The Green & White entries are in Virtual Reality and in Brand Activation at Live Events.
The Jets' "Virtual Reality Experience" provided Jets fans with a fully immersive VR/360 experience, taking them to places typically reserved for only players and coaches. The experiences were released at each home game in the Jets Virtual Reality Lounge in MetLife Stadium.
Some of these experiences were gameday-related — running out of the tunnel, taking the field for the coin toss, standing on the sidelines for the National Anthem and for a Jets touchdown, and leading the stadium in the famous J-E-T-S chant. Others included training camp drills, "Inside the Jets Training Facility," a "Jets Cheerleader Experience" (from tryouts to running out on the field), and an "Army Black Knights Parachute into Stadium Experience."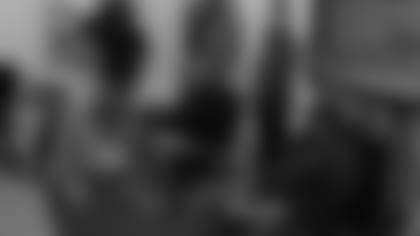 In Brand Activation at Live Event, the Jets have entered their "Toyota Sienna Storage Challenge at MetLife Stadium," a fast-paced halftime event for fans. At stake: a trip to Super Bowl LI, including airfare, lodging and two tickets.
The new, fun and exciting activation was a season-long contest featuring eight semifinalists who were challenged to fit 36 foam-branded cubes into a Sienna as quickly as possible. The contest culminated in two finalists competing in front of thousands of fans on the field at halftime of the Jets' regular-season finale against the Buffalo Bills in a winner-take-all contest.
The Cynopsis Awards celebrate the talented work of producers, hosts, sponsors and executives and salute the initiatives that drove audiences and turned sports viewers into fans. The Cynopsis list spans all corners of the industry, including best series and savvy marketing tactics as well as top digital content. This year's awards will be held April 13 at the New York Athletic Club.