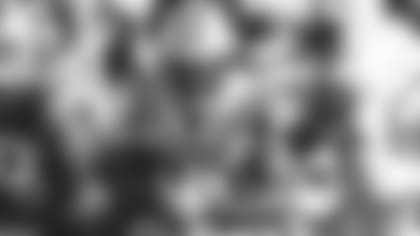 Jets to Persevere Without Q
On Thursday, Jets head coach Todd Bowles declared wide receiver Quincy Enunwa out against the Packers. Sunday's contest will mark the fourth game Enunwa will miss this season and his second consecutive matchup due to an ankle sprain.
"You sympathize with any player that gets hurt, not even for money but just because they're going to help our team win," Bowles said of Enunwa, who has 38 catches and 449 receiving yards in 2018. "For him to get nicked up and go in and out, it kind of hurt us as a team. I'm sure he's disappointed because of how hard he worked to get back, but sometimes these things happen, you've just got to persevere."
With Enunwa down, rookie wideout Deontay Burnett will be active Sunday. The Green & White also listed ILB Kevin Pierre-Louis (shoulder) as doubtful while both DB Daryl Roberts (toe) and OLB Jordan Jenkins (ankle) are questionable.
Qvale Is Back on the Bike
With starting right tackle Brandon Shell recovering from knee surgery and on injured reserve, Brent Qvale could start his first game in 2018. Qvale, who replaced Shell against the Texans, started six games last year and wants to finish the year strong while showing consistency.
"It's kind of like riding a bike," he said of his return to game action. "That is kind of your job as a pro to always be ready. That's the way I've approached it my whole career. You never know when you might have to go in, fill in, start or anything. Just always be ready, prepare like you're an everyday starter and when your number gets called, go out there and do your job."
The fourth-year veteran has experience playing with right guard Brian Winters and center Jonotthan Harrison. And Qvale, a 6'7", 315-pounder, goes back a ways with left guard Spencer Long because they both lined up together at Nebraska.
"I played with Spencer in college, so I've communicated with him for a long time," he said. "It shouldn't be an issue as far as communication across the line."
Sunday's game will mark the team's fourth line combination of 2018 and Long thinks the unit has adjusted well with moving parts throughout the year. Since Week 13, the offensive line has surrendered a total of five sacks and has helped the running game average 108 yards per game on 31 attempts.
"That's what it's like in this league," Long said. "You only dress so many guys, so when you put the pads on, you have to be ready to roll. It has to be a smooth transition and I think we've done a good job of adjusting to some injuries and some problems. I think we gel well and we've played some good games lately."
Scramble Drill
Tight end Chris Herndon, who earlier this season became just the second rookie in franchise history to record a touchdown in three consecutive contests, ranks second among all rookie tight ends while with a 12.9-yard per reception average. He had a strong first year and has no intention slowing down over the final two games.
"Our goal going into both of these games is to win. We don't go in looking down on ourselves," he said. "We're just trying to finish it off. We want to set the tone and bring momentum for next season."
Last week against the Texans, Herndon hauled in three passes for 53 yards. On a couple of occasions, Herndon kept working for his quarterback while fellow rookie Sam Darnold scrambled and eventually got critical completions to No. 89.
"Just try to get open, really. You kind of get a feel of where the defense is flowing and you just try to find a weak spot," he said. "He's really good at finding me."
Herndon, who was Darnold's roommate in the spring, says the signal caller is keeping his eyes down the field even in the midst of pressure.
"There are a lot quarterbacks that when they start to scramble, they're looking to get away from the pressure or get out of bounds," he said. "When he scrambles, he's gaining yards and looking for people down the field."