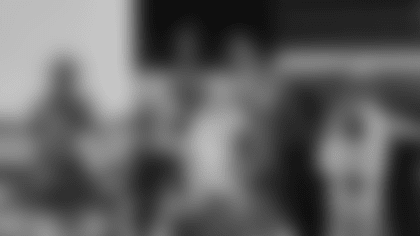 This is one in a series of articles that will also appear in the New York Jets 2023 Yearbook, which will be published later this summer.
The Jets' typically raucous crowds are expected to take it to another level in 2023 with four primetime games at MetLife Stadium — the most in franchise history.
"The Jets have an incredible, passionate fanbase," QB Aaron Rodgers said. "I saw that last year at Lambeau. Obviously, I know about Fireman Ed and his passion for the team. I think that's an exciting draw to this as well.
"I'm excited to meet the fans, play in front of them. But to be part of something special is what keeps you coming back. I think this is building right now and what Coach [Robert Saleh] has done the last couple of years, he's building something special the right way, with the right values, the right type of leadership, and I think I can just fit in perfectly."
The fans provided an electric atmosphere in 2022 as the Jets had record crowds at several games last season. This year they will have nine home games, starting in Week 1 against the Bills on Monday Night Football. The rest of the primetime slate includes the Super Bowl-champion Chiefs in Week 4, the Chargers in Week 9 and the Dolphins in Week 12 in the first Black Friday game in NFL history. Not to mention that the NFC-champion Eagles come up I-95 for a late-afternoon national game in Week 6.
"Last season we saw record crowds at MetLife Stadium for our home games," said Larry Fitzpatrick, vice president of ticket sales & service. "We expect more records this season because Jets fans believe this team is on the cusp of something special. Throughout the offseason, thousands of our loyal fans have come on board as new season ticket holders, and the majority of our base from 2022 will return to their seats. We have the best fans in the NFL and we can't wait for them to bring the noise, beginning with the opener against Buffalo."
The Jets will induct their new Fan Hall of Fame class at a game this season and honor their new Pro Football Hall of Fame enshrinees — Joe Klecko and Darelle Revis — at separate contests.