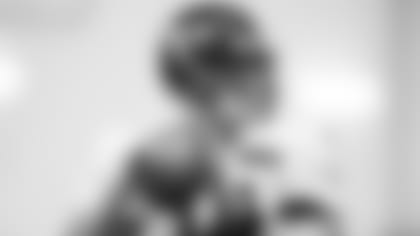 There has been a lot of buzz going around since the Jets announced that quarterback Sam Darnold will return as the starter this week against the Dallas Cowboys, and some of the most enthusiastic reactions have come from inside One Jets Drive.
"Anytime your starting quarterback comes back, guys are going to be excited," said head coach Adam Gase. "The good thing is, the way he looks at it, he wants to come in and do his job. I don't think guys are looking at it like now that he's back all will be all right. They know we have a lot to clean up."
After completing 68.3% of his passes and throwing for 175 yards and one touchdown against the Buffalo Bills in Week 1, Darnold missed the next three contests due to a bout with mono. Since his absence, the offense has struggled to find a rhythm and accounted for just one touchdown. Gase is confident that his second-year QB can help turn things around.
"He's what you refer to as an eraser-type player, where it can be the worst call ever and he makes it work," Gase said. "If something bad happens, he can escape, he can extend plays. When you have good pocket presence and you have the ability to escape the pocket, it will mask mistakes that are made by others."
Although having Darnold on the field will open up the offense and the play-calling, Gase isn't the only one looking forward to having the USC product back on the field. Running back Le'Veon Bell, who leads the Jets in rushing with 206 yards and is second on the team in receiving with 166 receiving yards, can't wait to have to have QB1 back in the huddle.
"I think Sam is probably one of the most valuable players on the team being the quarterback," Bell said. "We still haven't seen everything he can do yet. He's still a young player and he's only going to continue to get better. I'm just ready for him to get in the game and make some plays because that's what he does, he's a special player. I've seen it all during camp, I've seen it in the preseason and the first game."
Darnold was medically cleared Tuesday after another round of tests. As the 6'3", 225-pound signal-caller prepares for the Cowboys, one of his new teammates is ready to line up with him for the first time.
"He can make plays go longer, he can make every throw, and he's a leader in the huddle. From my first time being in the huddle with him, he's a leader and takes control and he speaks up, and that's big for our team," said wide receiver Demaryius Thomas. "A lot of guys are excited, I'm excited to finally get to play with him. Me and Gase used to talk about him a couple times before I got here, so I'm excited about that too."
See Best Images from Wednesday's Practice at 1 Jets Drive