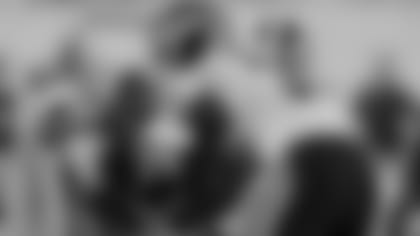 After lining up in 49 games for Western Michigan, Zaire Barnes didn't receive an invite to the NFL Combine, the Senior Bowl or the East-West Shrine Bowl. But the Jets had Barnes on their radar throughout the offseason and selected the former Bronco standout in the sixth round (No. 184) in the 2023 NFL Draft.
"He's an outstanding blitzer, has timing, he has burst," said NFL Network's Daniel Jeremiah after Barnes' name was called on Day 3. "But someone who gained a little steam late in the process and got himself drafted."
During his collegiate career, Barnes amassed 205 tackles, 15 TFL, 3.5 sacks and 10 PDs. As a senior, Barnes was a first team All-Mid-American Conference selection after pacing the Broncos with 98 tackles, 9 PDs and 3 FR. He produced double-digit tackles in three games including a 13-stop performance against Ohio.
"He's got a really good combination of length, speed, size," HC Robert Saleh said of Barnes. "He is incredibly smart, very instinctive. He played a style of defense that's a little bit different than ours and they asked him to blitz a lot. They do a lot of stuff at Western and it was good. They play good defense over there. We just felt like with his makeup and his versatility and speed, especially his speed, and length, that he would translate really well into our system, so he's going to come in here and get an opportunity to compete for that third spot and contribute on special teams and see where he takes it. Really, really excited about that kid."
Barnes' athleticism popped at WMU's pro day as he posted a 4.27 in the 20-yard shuttle and a 34-inch vertical. An honorable mention all-state performer at safety and running back at Caramel Catholic HS (IL), Barnes transitioned to LB in college and became the 44th Bronco to be taken in the NFL Draft in program history, and the fifth by the Jets.
"I feel like my safety profile was more of a hitting-type safety," Barnes said. "I think it helped me in the cover game, for sure. One thing that I had to get used to is just being consistently in the run when I moved down into my linebacker room. Once I got comfortable with doing that, I feel like everything else fell into place with my coverage. I had a lot of experience with that, and I just always loved to hit. So, hitting gaps, once I got the hang of that, it was pretty smooth and just reps at that point."
In the 2021 draft, the Jets drafted a pair of former college safeties — Jamien Sherwood and Hamsah Nasirildeen — and moved both to linebacker. Barnes (6-1, 227) made the move up a level in college and he believes his versatility will help him in the NFL.
"I'm someone who is going to run to the ball, play with a lot of heart," Barnes said. "My love of the game is probably further than most. I'm a guy that doesn't take any rep off and someone that's going to be in the playbook every single day and just learn it like the back of my hand. Someone who is great in coverage and also can be stout in the run game. Someone that's very versatile and takes pride in doing so."
In addition to competing for the third linebacker spot, Barnes will be expected to contribute immediately on special teams.
"Special teams I take so much pride in," Barnes said. "I walked in there as a freshman being a core four [player] and that's where I learned and [understood] what it took to get on the field. Ever since then, I just respected that part of the game to the highest level. Every year, ever since I've been at Western, I was always on special teams. I take pride in doing it. I didn't want to come off. That's fine if I have to go in there and show them. If that's my role on the team, I'm here to do that."