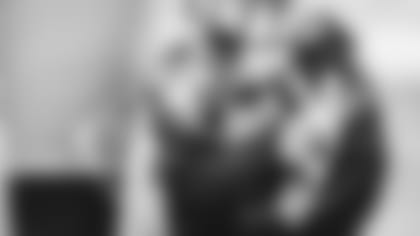 The Jets have elevated OL Xavier Newman and WR Malik Taylor for Monday's game against the Chargers. Both players will revert back to the P-squad following the Week 9 matchup. The Green & White also signed OL Jacob Hason to the PS and released OL Jason Poe from the PS.
Newman (6-2, 297) was elevated for last week's game against the Giants and took 46 snaps on offense, some at guard and some center. He signed to the PS after he played three games for the Titans and took 12 snaps on offense as well as 11 on special teams. Newman originally signed with Tennessee as an undrafted free agent out of Baylor in 2022. He played 47 games over five seasons for the Bears, including 28 at left guard.
Taylor (6-1, 220), who signed with the Green & White's P-squad Sept. 12, took 23 snaps in last week's win over the Giants and drew a 30-yard pass interference penalty that set up the game-winning field goal. He first signed to the Jets practice squad on Dec. 29 last season before he was signed to a reserve/future deal in January. He battled injury in the preseason but had a 56-yard reception against the Browns in the Hall of Fame game. Taylor played in 25 games for the Packers from 2020-21 and had 7 receptions, 80 yards and 1 touchdown. He originally signed with the Buccaneers as an undrafted free agent out of Ferris State and  spent five days with Tampa Bay before joining Green Bay.
Hanson (6-4, 296) most recently spent time with the Packers. He played in 11 games (1 start) over the past two seasons in Green Bay after he was drafted by the Pack in the sixth round in 2020 out of Oregon. Hanson was a two-time second-team All-Pac 12 and allowed 2 sacks and 4 QB hits as a senior in 2019.
Poe (6-2, 295), a first-year player who was signed after the 2022 NFL Draft as an undrafted free agent by San Francisco out of Mercer University in Georgia, joined the Jets practice squad Aug. 31. He spent all last season on the 49ers' practice squad.