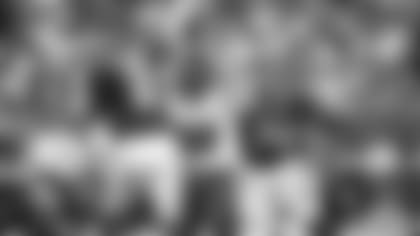 Jets defensive tackle Sheldon Rankins made his living playing in the NFC South for New Orleans the past four NFL seasons. Now, with the Green & White preparing to head south for their regular-season opener at Carolina on Sept. 12, Rankins said he's ready to let his teammates in on his trove of information and insight.
"I still have all my notes. Everything," he told Eric Allen of nyjets.com for a "Two-Minute Drill" feature. "I'm that guy, a big film junkie. I take detailed notes."
Somewhere along the way Rankins, signed by the Jets in free agency, has been tagged with the label "Mr. Boring," mostly because he's all football, all the time.
In an article before he was drafted No. 12 overall in 2016 out of Louisville, Rankins said: "I'm just not one of those guys who gets away from home and starts acting like he wasn't raised by people with common sense. It wasn't really a sacrifice for me, but I knew what I wanted to do. I came here to play ball and get to the next level."
That "next level" has brought him to the Atlantic Health Jets Training Center and a role in the Jets' redesigned defensive line. The early optimism about the plan being installed by head coach Robert Saleh, defensive coordinator Jeff Ulbrich and their staff took a hit last week when edge-rusher Carl Lawson sustained a torn tendon in his Achilles heel. He's out for the season, and general manager Joe Douglas quickly went out and traded for another edge rusher in Shaq Lawson (no relation) who could play next to Rankins on the right side of the line.
Rankins called the newest addition to the defensive line "a friend" and said of the trade, "that's big."
"Obviously praise up for our brother Carl Lawson," Rankins said. "I've known Shaq for a while. I know what kind of player he is, what type of person he is. I know what he's going to bring to the team. He's a big addition to the already stellar room we have. The more firepower the better.
"Throughout his entire career, even back at Clemson, he's been a three-down guy who sets the edge, makes TFLs, disrupts the game and on third down, when it's time to make money, he can go get the quarterback. We're getting a complete player who can help on first, second and third downs. He's going to be a big guy for us."
Rankins, who joined the Jets in March, is among a group of players Douglas signed this year -- WR Corey Davis (No. 5 in 2017) and LB Jarrad Davis (No. 21 in 2017) are two others -- who were high draft picks the Jets believe can still reach their full potential.
An injury limited him his first season, but Rankins played in all 16 regular-season games for the Saints in 2017 (2 sacks, 16 solo tackles, 5 TFLs and 9 QB hits) and 2018 (8 sacks, 25 solo tackles, 12TFLs and 15 QB hits). His production was off the past two seasons as he dealt with Achilles tendon and knee injuries.
Asked about how he's feeling physically, Rankins said: "I'm good. I'm great. That guy you describe is healthy, ready to cause havoc, ready to do things that made me special prior to the Achilles injuries. I'm ready to get back to sacks, TFLs and disruption.
"If I'm doing the shimmy it means I'm getting a lot of sacks. So you're going to see a lot of shimmies coming this way at MetLife."