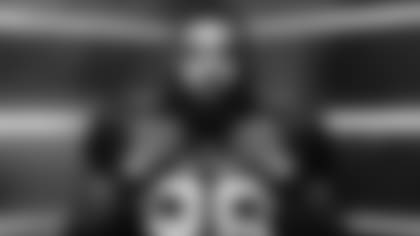 The Jets wanted DT Sheldon Rankins. They wanted him to be a part of an emerging unit on defense. They wanted to show him that the Green & White believe in him and his potential. GM Joe Douglas wanted to give HC Robert Saleh and DC Jeff Ulbrich another piece in an evolving defensive puzzle.
And Rankins? After five seasons with the New Orleans Saints (selection No. 12 overall in the 2016 NFL Draft), he told SiriusXM NFL Radio that buying into what Saleh and the Jets are building was easy.
"I've watched it grow," Rankins (6-2, 305) said. "I've watched guys get more comfortable, you know, offensively, defensively, special teams. I've watched the competition. And I've watched what he's really trying to breed, and it's something special. Everyone's buying in. Everyone's coming in every day with the mindset of, we're not just here to, 'Maybe we'll do alright this year. Maybe not.' No, guys are coming in ready to compete and really take this league by storm. And we're hoping we can do so."
Rankins, who was signed by the Jets in free agency in March, is among a cohort of players Douglas signed this year -- WR Corey Davis (No. 5 in 2017) and LB Jarrad Davis (No. 21 in 2017) are two others -- who were high draft picks the Jets believe are still to reach their full potential.
Rankins, 27, another Louisville alumni along with OT Mekhi Becton, joined a Saints defense that ranked 31st in points allowed. An injury limited him his rookie season, but Rankins played in all 16 regular-season games in 2017 (2 sacks, 16 solo tackles, 5 TFLs and 9 QB hits) and 2018 (8 sacks, 25 solo tackles, 12TFLs and 15 QB hits). His production was off the past two seasons as he dealt with Achilles tendon and knee injuries.
Douglas knows quality when he sees it, and Rankins will join a Jets line that includes the rapidly emerging Quinnen Williams and stout veteran Folorunso Fatukasi on the interior plus Carl Lawson and Vinny Curry (two other signees in free agency) and John Franklin-Myers at defensive end. There will be fierce competition at camp because the Jets have plenty of intriguing names along a D-line that features both young veterans and rookies hoping to make an impact.
"One thing about us, I know we're going to compete," Rankins said. "There's never going to be a game we go into where people are going to cut that game on and be like, 'Oh, they're just there. They're just out there. They're just out there for a check.' That's never going to be a thing with us.
"This league comes down to one-possession games every week. We're going to win those one-possession games. We're a young team, I understand that. I come from a team [(New Orleans] where we were in a lot of those, and we won a lot of those. So I'm able to understand what to do in certain situations that some younger guys may not be able to ... we're going to compete and keep ourselves in games."