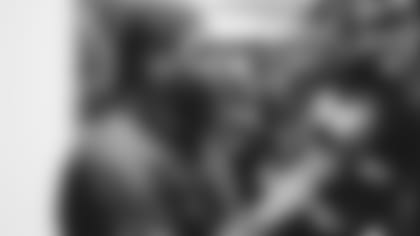 Before he could even make it to the podium to address the media for the first time since he was drafted, Jets defensive lineman Quinnen Williams had a smile as wide as the Hudson River plastered on his face. Despite becoming a member of the Green and White more than two weeks ago, the rookie couldn't help but feel a little starstruck.
"To be in this position right now, it's crazy," Williams said as he talked about his teammates. "I met Le'Veon Bell yesterday and I'm like, whoa this is Le'Veon Bell, the number one running back in the NFL… I know I'm one of these people now too, but I don't really look at it like that. I met Sam Darnold, which was crazy, and Jamal Adams. I've got Jamal on my ultimate team, but I didn't tell him yet."
On paper, you tend to forget that the 6'4", 295-pound defensive beast is only a 21-year-old kid fresh off just one-year of starting at the collegiate level. His monstrous numbers posted at Alabama in 2018 (70 tackles, 18.5 tackles for loss, and seven sacks) suggest physically he is more than ready for the transition and he is every bit a professional already when it comes to his mindset.
"There's a lot of stuff I don't know just yet. I just want to get up here and get with the guys who have been doing it for fourteen and eleven years and see how they do it and see why and how they've been doing it for so long," Williams said. "I really want to basically break my whole entire game down…Get to know the veterans and pick their brains about how they do this, what's the hand placement, and different techniques because they've been doing it for so long for a reason."
While Jets head coach Adam Gase talked about Williams' ability to apply pressure up the middle, his coach at Alabama recently also praised his intelligence and instincts.
"I think his initial quickness and his ability to use his hands, play with leverage, get off blocks quickly," Nick Saban told NFL Network's Andrew Siciliano of Williams. "He's athletic, so he's a really good pass rusher…This guy is a really smart, instinctive player. I think sometimes people overlook how that impacts someone's production and his production here was fabulous."
High praise from one of the most respected college coaches of all-time isn't something that comes around very often. And although he's aware of the talent and the versatility he brings to the table, Williams still believes one of the most important character traits is humility.
"Going to Alabama it taught me a huge humbling experience because going there you're not the only five-star, just like coming here I'm not the only first-rounder," said Williams. "And you've got free agents who play like first-rounders. So you have to learn different things, you have to learn different ways and different standards. You have to learn the process, and the same way that I had to learn at Alabama I'm going to have to learn up here, so I can be a great player just like I was there and be a great player in the NFL for a long time."
Williams has embarked on a new stage of life, but the gifted defensive tackle is ready to contribute everything that is required.
"I'm a hard worker and I know I'm going to do anything I need to do to be able to compete at a high level and at the strength I need, the speed I need, and the condition I need," he said.