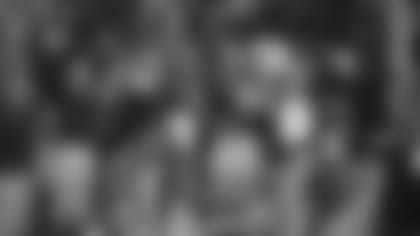 In what might be remembered as a historically loaded wide receiver draft class, Denzel Mims slipped until the 59th overall selection. When he finally received a phone call from the Jets in the second round, Mims became the 13th wideout taken in the 2020 NFL Draft. John Werner, who covered the Baylor product for The Waco Tribune-Herald, believes Jets GM Joe Douglas found great value in Mims and anticipates the rangy target will make significant contributions immediately.
"Obviously it was a very deep draft for receivers and from all the predictions, we thought Denzel would go late in the first round or maybe early in the second. So it was a real shock that he went late in the second round, but boy, what a coup for the Jets to get him that late," Werner said. "I think he will have a chip on his shoulder. He's a guy who likes challenges and I would expect him to have a pretty good rookie year."
After a productive campaign that saw Mims haul in 66 catches for 1,020 yards and 12 touchdowns, he only helped himself with a standout week at the Senior Bowl. Then the long-strider went to Indianapolis and posted a 4.38 time in the 40-yard dash.
"I think a lot of people knew that he good size and speed, but I think they saw he was a pretty good route runner too," Werner said of Mims' skills that were on display in Mobile, AL. "Another thing that kind of gets overlooked is he is a tremendous blocker. The Baylor coaches were always commenting on well he could block down the field. He's just got a real instinct for the game, he's not afraid to make catches over the middle and he's great at leaping for balls in the end zone."
The 6'3", 215-pound Mims, who ranks 3rd, 5th and 6th , respectively, in Baylor history with 28 receiving touchdowns, 186 receptions and 2,925 receiving yards, has the ability to run by defenders and come down with contested passes in a crowd.
Mims, who had 11 career 100-yard receiving games and is only the third Bear in program history with multiple 1,000+ yards receiving seasons (2017 & '19), was lauded for his approach by former Baylor head coach/current Carolina Panthers head coach Matt Rhule.
"Coach Rhule always commented on how hard he worked in practice," Werner. "He was always learning and always looking to improve his skills, he never thought of himself as a finished product. He was always trying to get better at something and I think you're going to see the same kind of work ethic in the NFL."