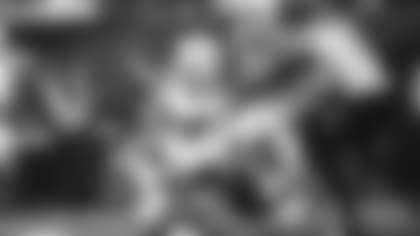 At first glance, this looks like a no-brainer. The Jets, 7-9 and out of the AFC playoffs, take on the Dolphins, 8-8 and still in the postseason hunt, at Hard Rock Stadium.
But Robert Saleh, wrapping up his second season as the Jets' head coach, doesn't see a foregone conclusion in this one.
"When those players put those helmets on, they're professionals, they get it," Saleh said. "The idea that players tank, they don't show up, they don't play hard — I don't believe in it. These guys are putting tape out there for 31 other teams, for fans, for everyone to see. And there's a lot of pride in players and coaches, regardless of your record, to go out there and do your absolute best. So I'm not worried about these guys getting up for this game and trying to play spoiler."
And the Jets do have a few things to play for. A win to take into the offseason rather than a loss is always preferred. And a bookend victory to go with their most dominant game of 2022, the 40-17 home win over the Dolphins in Game 5. And their first series sweep of the 'Fins since 2014, their first sweep of any AFC East foe since the Bills in 2015, their first win ever at the "Hard Rock." (For their last win there, in the '14 finale, the stadium was called Sun Life).
And this second-ever Game 17 for both teams pits division rivals that, despite their differing expectations, are in similar situations in other ways. Both started strong the first 11 games, both are on five-game losing streaks, both are sorting through QB situations. Each has a similar turnover profile — they're tied for 29th in the NFL with minus-7 TO margins.
Here are four topics of interest for the Green & White in Sunday's finale.
Rematch Worth the Price of Admission
It's been mentioned a few times on newyorkjets.com and elsewhere that this game features a rematch between the Jets' all-star-caliber corner tandem of Pro Bowl rookie Sauce Gardner and PB alternate D.J. Reed vs. Miami's speedy WR duo, Pro Bowler Tyreek Hill and PB alternate Jaylen Waddle. Round 1 went to the Jets as Hill and Waddle combined had 10 targets and 10 catches but for only 70 yards and no TDs.
But another matchup merits attention and that's the Jets' LBs and safeties — with rookie FA Tony Adams possibly starting for Lamarcus Joyner — against the Dolphins TEs. Mike Gesicki and Durham Smythe each had a TD reception against the Jets in '20, Smythe also scored on a 1-yard TE keeper this season, and Gesicki has a 13.0-yard average on 20 career receptions vs. the Green & White. And in the past five games, Jets opponents have found their TEs for 29 catches, 366 yards, four TDs and no INTs, which if we apply the passer rating formula to those numbers, produces a 137.3 rating.
Who's the Quarterback?
Miami HC Mike McDaniel wasn't tipping his hand through midweek about who his starting QB will be vs. the Jets. It seems unlikely that Tua Tagovailoa, still in the NFL concussion protocol, will play, and backup Teddy Bridgewater, who started and played one snap vs the Jets in October, is a question with a dislocated pinky on his right (throwing) hand.
Skylar Thompson, who was contained by the Jets in his pro debut and in five other games and has shown 54.1% passing accuracy and a 56.3 rating, could be the starter, with just-signed journeyman Mike Glennon backing up. It would appear to be a great opportunity for all three levels of the Jets defense (fourth in yards and points allowed) to thrive, even though at Seattle the D gave up 17 points on its first three drives and went without a takeaway for the fourth time in five games.
"As a defensive player, as a defensive leader, we hold ourselves to a very high standard," MLB C.J. Mosley said, "because we believe in our defense and what we're capable of doing."
Where Did All the TDs Go?
The Jets have their own well-documented QB situation. Mike White will start again and he's had two superb starts in the past two seasons, but each was followed by losses and fewer points — in White's four starts this season, they've gone from 31 points in the win over Chicago to 22, 12 and 6 last week at Seattle. With Zach Wilson starting the week before vs. Jacksonville, the Jets have no touchdowns of any kind in their last eight quarters.
This is the time for the offense to show something to take into the offseason. You can base that theory on the 41 points the Jets scored in Week 5, although they and the Dolphins are different teams now. You can say when White's rib and his protection aren't issues, he can generate points as well as yards. WRs Garrett Wilson, Corey Davis and Elijah Moore, RBs Michael Carter, Bam Knight and, in his first start of the year at Seattle, Ty Johnson, have shown that they can play as if shot from cannons.
But somehow the Jets need to rediscover the TD formula that enabled them to average 21.8 points/game before their Week 9 bye and 13.4 since.
Tipping the Field Position
Average drive start reflects several factors, such as turnovers and kick returns and coverage. Thus that stat has a correlation to winning and losing similar to TO margin. That being said, the Jets got great kicking vs. Miami in Game 5, from P Braden Mann and from Greg Zuerlein, who went 7-for-7 on kickoff touchbacks; a 42-yard KO return by Braxton Berrios; and their plus-2 TO margin to fashion an average drive start of their 36.9-yard line and a drive-start margin of plus-13.5 yards on the Dolphins, both Jets season highs.
In these last five games, the Green & White haven't been as well-positioned, with a 25.8 drive start and a minus-6.2-yard drive-start margin. They could reestablish their field position edge with Berrios (11.1-yard punt-return average) vs. Miami's coverage, 24th in the NFL, and core Pro Bowl special teamer Justin Hardee leading the coverage against the Dolphins' punt and kickoff return units, both of which are 31st in average returns.